Science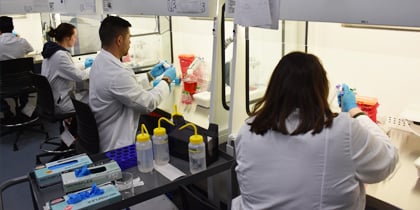 The Science Department at Triton College strives to give the best science education using the latest technology and the most effective teaching methods in state-of-the-art facilities.
Having completed or taken courses in Triton's Science Department, students will be able to:
Explore principles of the life sciences and physical sciences, utilizing well-founded tools and methodology grounded in scientific inquiry.
Develop basic laboratory skills to enhance and facilitate conceptual modeling and critical thinking.
Promote discovery-based learning in a scientific setting that promotes student empowerment and self-esteem.
Utilize scientific literature and discourse, develop a discerning appreciation for data that reflects fidelity to the scientific method.
Employ mathematical theory and methods in the collection of data to quantify, visualize, describe and summarize results.
Cultivate an appreciation for, and curiosity of - scientific theory and practice, and the civic role of the individual and the global society.
---
Astronomy
Courses
All courses may be used to satisfy your General Education physical science requirement
All courses are lab courses
All courses are designed for non-science majors and have no prerequisite
All courses are offered during fall, spring and summer semesters.
---
Biology
Degrees
Courses
---
Biotechnology
What is Biotechnology?
Biotechnology can be defined as an activity that harnesses the actions of living things, through technology that uses living systems and organisms to develop products or processes. Although biotechnology is traditionally used primarily in food production, it can also be used in medicine (stem cells) and agricultural efforts, such as alternative fuels, to reduce humankind's environmental footprint.
Triton is fueling the minds and careers of the future
Triton College's Biotechnology Laboratory Technician associate degree will advance students' understanding of science and the nature of the different STEM fields to prepare them to enter the competitive, high performance workplace of biotechnology. The degree will align curriculum that incorporates problem-based learning and innovative pedagogy, and will serve as an educational pipeline for students within the biotechnology industry. The program will create pathways link students to work-based educational experiences with employers in the industry as well as to a Bachelor of Science degree at a four-year institution.
Economic Impact of Biotechnology
A cluster of states in the Midwest (Illinois, Indiana, Iowa, Kansas, Michigan, Minnesota, Missouri, Ohio and Wisconsin) have proven to be leaders in biotechnology research, development and academic activities, boasting more than 377,900 employees in more than 16,800 establishments across the nine states. Illinois is at the core of the biotechnology industry, leading the way with the number of people employed in this field, corporate profitability, employee wages and overall growth. Illinois has the largest number of bioscience companies among the nine-state cluster. Company revenue for Illinois biotechnology companies has increased from $48.3 billion in fiscal year 2001 to $77.7 billion in FY 2006, and to $151.3 billion in FY 2011, directly and indirectly impacting the regional and global economy. This growth increases employees' salaries in this field, which in turn can impact their spending power to boost other businesses, resulting in a higher contribution to the state's tax dollars. Just as the state of Illinois is committed to fueling the growth of biotechnology, Triton College is committed to educating and training our students to pursue a career in this booming market with its new Biotechnology Laboratory Technician associate degree.
SOURCE
"The Economic Engine of Biotechnology in Illinois," Illinois Biotechnology Industry Organization, 2013. http://www.ibio.org/?page=ilecomoncireport
Job outlook in Illinois for Biotechnology
A market that has amassed $151 billion in revenue in Illinois for the year 2011, biotechnology is on the rise- both in the stock market and in providing gainful employment. In Illinois alone, more than 80,000 people are directly employed at biotechnology establishments throughout the state. Within 400 miles of Chicago, there are more than 15,500 biotechnology establishments employing more than 360,000 people. The top five counties in Illinois that has the greatest number of biotechnology companies are Lake County; Cook County, which has a high concentration of device and diagnostic companies; and DuPage County, Rock Island County and Vermilion County, all three of which have a big concentration of agricultural and industrial firms.
Bioscience Industry Segments Include:
Agricultural feedstock and chemicals
Drugs and pharmaceuticals
Medical devices and equipment
Research, testing and medical laboratories
Biotechnology-related distribution
The salary for a biotechnology career is just as impressive. Illinois residents employed by biotechnology companies earn a staggering 91 percent more than the average Illinois resident, making an average salary of $97,293 per year compared to about $50,920 respectively (excluding benefits). The average total compensation (wages and benefits) of people working at biotechnology firms across the nation was $121,616 in 2011. A person with a two-year Biotechnology Laboratory Technician Associate of Applied Science can expect to earn about $39,000 per year for an entry-level position.
SOURCE
"The Economic Engine of Biotechnology in Illinois," Illinois Biotechnology Industry Organization, 2013. http://www.ibio.org/?page=ilecomoncireport
Industry and University Partners:
ADM
Honeywell UOP
iBio
BIO RAD
Horizon Pharma
Illinois Institute of Technology
Medix
Oak Park and River Forest High School
NCER at SIUE
Illinois State University
Degrees
Courses
---
Chemistry
Degrees
Courses
---
Environmental Science
Degrees
---
Geology
Degrees
Courses
---
Physical Science
Introduction to Earth Science explores the basic processes guiding the formation of the Earth's natural landscapes, map reading, geography and astronomy, Earth-sun relations, weather and climates, energy and mineral resources, earthquakes, volcanoes, glaciers and human-environment interactions.
Any course may be used to satisfy your General Education Physical Science Requirement.
All courses are lab courses.
All courses are designed for non-science majors and have no prerequisite.
Courses
---
Physics
Degrees
Courses
---
Pre-Profession
Pre-professional degrees are meant for careers that will often require graduate training and are designed to help students transfer to the appropriate bachelor's program in preparation for that profession, these include Dentistry, Engineering, Medicine, Nursing, Nutrition, Occupational Therapy, Optometry, Pharmacy, and Veterinary Medicine.
Degrees
---
Contact Information
Sheldon Turner, Ph.D.
Professor, Geology & Environmental Sciences
Department Chair
Office: D-116
(708) 456-0300, Ext. 3312
sheldonturner@triton.edu
Joseph Beuchel
Professor, Biological Sciences
Office: D-107
(708) 456-0300, Ext. 3004
josephbeuchel@triton.edu
Richard Chan, M.D.
Professor, Microbiology and Anatomy &
Physiology
Office: D-104
(708) 456-0300, Ext. 3018
richardchan@triton.edu
Beth Cliffel
Professor, Biological Sciences
Office: D-106
(708) 456-0300, Ext. 3017
bethcliffel@triton.edu
Jennifer Daciolas
Office Assistant
Office: D-116
(708) 456-0300, Ext. 3315
jenniferdaciolas@triton.edu
Farzan Ghauri, Ph.D.
Professor, Engineering
& Physics Faculty
Office: D-100
(708) 456-0300, Ext 3718
farzanghauri@triton.edu
Gabriel Guzman, Ph.D.
Professor, Microbiology
Biotechnology Technician Program Coordinator
Office: D-105
(708) 456-0300, Ext. 3008
gabrielguzman@triton.edu
Sarah Hamilton
Assistant Laboratory Coordinator - Chemistry
Office: D-206A
(708) 456-0300, Ext. 3310
sarahhamilton@triton.edu
Vincent Hradil, Ph.D.
Professor, Chemistry
Office: D-108
(708) 456-0300, Ext. 3304
vincenthradil@triton.edu
Martha (Carla) Kanan, M.D.
Lab Coordinator - Biology
Office: D-307
(708) 456-0300, Ext. 3394
marthakanan@triton.edu
Anwar Khan, Ph.D.
Professor, Biological Sciences
Office: D-109
(708) 456-0300, Ext. 3076
anwarkhan@triton.edu
Saadia Khan, Ph.D.
Professor, Chemistry
Office: D-108
(708) 456-0300, Ext. 3681
saadiakhan@triton.edu
Larry Manno
Professor, Chemistry
Office: D-102
(708) 456-0300, Ext. 3003
larrymanno@triton.edu
Cullen Nicholson, Ph.D.
Professor, Astronomy
Office: D-130
(708) 456-0300, Ext. 3340
cullennicholson@triton.edu
Susan Rohde
Professor, Anatomy & Physiology
Office: D-106
(708) 456-0300, Ext. 3036
susanrohde@triton.edu
Jennifer Smith, Ph.D.
Professor, Biological Sciences
Office: D-109
(708) 456-0300, Ext. 3316
jennifersmith2@triton.edu
Jack Taha, M.D.
Professor, Anatomy & Physiology
Office: D-104
(708) 456-0300, Ext. 3074
jacktaha@triton.edu