Biotechnology
Outstanding Programs & Services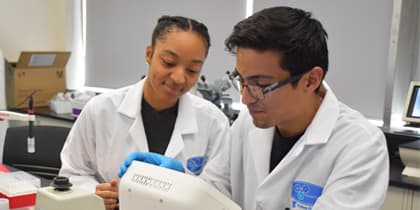 Triton College recognizes the increasing demand for skilled biotech workers throughout the region, and responded with the creation of the innovative Biotechnology Laboratory Technician Associate of Applied Science Degree Program.
From pharmaceuticals to medical devices, food processing to biofuels, this unique, comprehensive program is creating 'workforce ready' professionals who will help companies reach the next level.
Our talented faculty take a hands-on approach to preparing students to step into roles like quality assurance and quality control technicians, product analysts and other important positions.
Our program's lab and lecture components combine to show students how to culture bacteria, identify the presence of microorganisms, analyze DNA and more.
Additionally, the program's soft skills component ensures our students will fit into your company's culture by equipping them with time management, communication, teamwork and other important workplace skills.
Visit triton.edu/bio/ or contact Biotechnology Technician Program Coordinator, Susan Rohde at (708) 456-0300, Ext. 3036, or susanrohde@triton.edu for more information.