Automotive Technology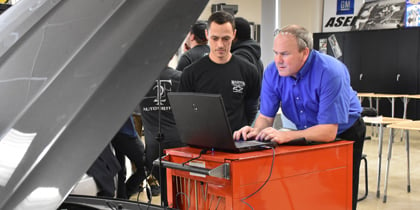 The Automotive Technology Degree Program curriculum provides the theoretical and practical knowledge needed to work in the field of automotive technology. Graduates earn an Associate in Applied Science in Automotive Technology degree. There are certificate programs in: Automotive Technology, Automotive Brake and Suspension, Engine Repair, Engine Performance and Transmission, and Diesel Truck.
---
Accreditation
The Automotive Technology degree curriculum provides the student with a working knowledge of automotive repair on today's high-tech, computerized automobile. Upon completion of the program, the graduate will be able to seek employment as an auto repair technician in a dealership or the aftermarket and can move into advanced automotive opportunities, such as service advising and manufacturer corporate positions. This program is (ASE) Education Foundation certified that maintains high standards in instruction and program aspects.
As an ASE Education Master Automobile Service Technology school, our students complete 1200 hours combined classroom and lab/shop instructional activities.
---
Required Tool List for
Triton Automotive Technology Students

---
Other Information
Career Opportunities
4-year Transfer Agreements
---
Contact Information

Ken Davis
Automotive Technology Chair

25 years as Dealer Level Service Technician
GM World Class Certified
ASE Master Certified including G1 and A9
ASE Advanced Level Certification L1

Office: T-111
(708) 456-0300, Ext. 3970
kennethdavis@triton.edu

Christopher May
GM ASEP & AC Delco Chair

23 years of GM service experience
27-year Dealer Technician
25-year ASE Certified Master Technician
ASE Certified A1-A8 plus G1 and L1
General Motors Certified Technician

Triton College GM ASEP Graduate-1994
Office: T-118
(708) 456-0300, Ext. 3456
christophermay@triton.edu

Mohsin Habeeb
Honda PACT Chair

25 years of Honda and Acura service experience
Master Acura Technician
Acura NSX Technician
ASE Master Certified, Advanced level, Alternative Fuels

Office: T-114
(708) 456-0300, Ext. 3453
mohsinhabeeb@triton.edu

Allan Hertko
Diesel Transportation Technology Chair


ASE Master Certified Automotive (A1 - A9)Maintenance and Light Repair Technician (G1)
Medium & Heavy Truck (T1 – T8)
26 years within Automotive & Truck Industry
12 years of institutional instruction

Office: T-112
708-456-0300, Ext. 3454
allanhertko@triton.edu


Todd Nicklewicz
Full-time Faculty Member

26-year technician for Bill Stasek Chevrolet A.A.S Triton College 1997
Graduate of ASEP 15
General Motors Factory trained
ASE/ Master Automobile Technician
ASE/ Maintenance and Light Repair Technician Certified
ASE/ Automobile Advanced Engine Performance L1 Certified


Office: T-116
708-456-0300 Ext. 3785
toddnicklewicz@triton.edu


Louie Longhi
Honda PACT, Full-time Faculty Member

40 Years in the automotive industry
ASE Master Certified including G1
ASE Advanced Level Certification L1
ASE Truck Certifications T7R & T6R
26 Years as technical supervisor for SKILLS USA IL
Board Member for North American Council for Automotive Teachers

Office: T-116
708-456-0300 Ext. 3547
louielonghi@triton.edu


Robert Jaimes
Full time Faculty Member

35 years as an Automotive Technician
3 years as an Auto Repair Shop Owner
ASE Certified
Bilingual-Spanish

Office: T-102
708-456-0300, Ext. 3073
robertjaimes@triton.edu


Brandon Marks
Director, Academic Advising
Office: B-120B
brandonmarks@triton.edu

Retention Specialist
Office: T-114
(708) 456-0300, Ext. 3256
hectorhernandez2@triton.edu