Honda PACT
Experience in automotive technology coupled with the Honda Professional Automotive Career Training (PACT) program is a win-win. This innovative program delivers advanced training, specific to Honda and Acura vehicles.
Master mechanical skills alongside expert faculty. Study advanced systems and component theories. Learn the nuances of Honda technology. From service and repair to maintenance and diagnostics, there's so much learn and lead the way. And the alternating schedule of classes and paid internships gives you an opportunity to earn some spending money while you learn.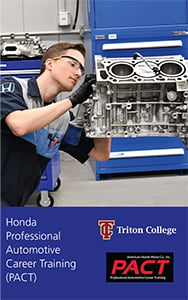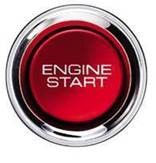 Click "ENGINE START" Button above to open Brochure!
Click HERE for Honda PACT Website
---
Accreditation
The Automotive Technology degree curriculum provides the student with a working knowledge of automotive repair on today's high-tech, computerized automobile. Upon completion of the program, the graduate will be able to seek employment as an auto repair technician in a dealership or the aftermarket and can move into advanced automotive opportunities, such as service advising and manufacturer corporate positions. This program is (ASE) Education Foundation certified that maintains high standards in instruction and program aspects.
As an ASE Education Master Automobile Service Technology school, our students complete 1200 hours combined classroom and lab/shop instructional activities.
Course Descriptions
Dealer Career Opportunities-Honda and Acura Dealerships
4-year Transfer Agreements
---
Contacts

Mohsin Habeeb
Honda PACT Chair

25 years of Honda and Acura service experience
Master Acura Technician
Acura NSX Technician
ASE Master Certified, Advanced level, Alternative Fuels

Office: T-114
(708) 456-0300, Ext. 3453
mohsinhabeeb@triton.edu


Louie Longhi
Honda PACT, Full-time Faculty Member

40 Years in the automotive industry
ASE Master Certified including G1
ASE Advanced Level Certification L1
ASE Truck Certifications T7R & T6R
26 Years as technical supervisor for SKILLS USA IL
Board Member for North American Council for Automotive Teachers

Office: T-116
708-456-0300 Ext. 3547
louielonghi@triton.edu





Brandon Marks
Director, Academic Advising
Office: B-120B
brandonmarks@triton.edu

Hector Hernandez
Retention Specialist
Office: T-114
(708) 456-0300, Ext. 3256
hectorhernandez2@triton.edu