ILSAMP STEM Team
Triton College Students earn recognition for STEM research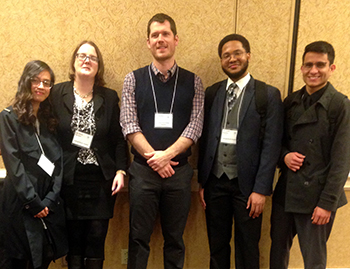 Several Triton College students were recognized for their scholastic efforts at the 2020 Illinois Louis Stokes Alliance for Minority Participation (ILSAMP) Spring Symposium hosted by The Center for STEM Education & Research at Chicago State University.
"Our students have participated in this event for the last two years and we were excited to bring home awards. The recognition is really a testament to our students' hard work and their ability to pull together as a team for a joint accomplishment," said Rudy Gostowski, Ph.D., chemistry professor, Arts and Sciences.
A team of four environmental science students won third place for their poster presentation on "Vermiponics Resilience: Set and Forget Hydroponics with Worm Waste." The team, advised by Triton faculty member Sheldon Turner, Ph.D., was composed of Keion MacKey, Jesus Sida, Diane Spangler and Ann Margaret Villanueva.
According to an article in the International Journal of Agricultural Science and Research (IJASR), vermiponics is a soil-less growing technique that combines hydroponics with vermiculture by utilizing diluted worm bin leachate, or worm tea, as the nutrient solution.
"This is great training experience. They are classmates now, but in the future they will be professional colleagues. Collaborative professional environments are prevalent not just in science and research, but across most industries," Turner said.
Trang Nguyen earned a third place award for an oral presentation in chemistry on "The Development of a Fiber Optic Reflectance Spectroscopy Instrument." Fiber optics reflectance spectroscopy, or FORS, is a non-invasive method of investigating artwork, according to the Journal of Cultural Heritage.
Florina Carrillo made a presentation on the "Effect of Heat on Degradation of Artist's Varnish" and Alberto Berrum-Quintana presented on the "Effects of an Escape Room Activity on a Classroom's Exam Grades."
"Learning is not just about being lectured. It is important our students continue to have opportunities to conduct research and present their findings. It strengthens their understanding of the material, improves their communication skills and builds confidence," said Kevin Li, dean, Arts and Sciences. "We want to continue to support our students' academic pursuits inside and outside of the classroom and help set them up for success."
The goal of ILSAMP is to increase the number of undergraduate and graduate degrees awarded to underrepresented populations in STEM. Chicago State University serves as the lead institution for ILSAMP and is comprised of nine public and private universities, four regional community colleges and one federal laboratory. To learn more about ILSAMP visit here.