Marisol Ibarra
Adult Education student makes a successful transition to college-level courses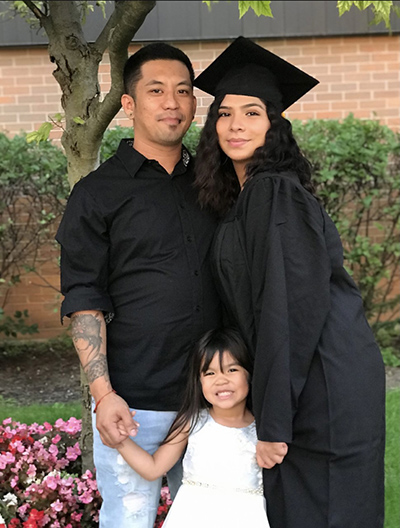 Marisol Ibarra enrolled in the High School Equivalency (HSE) Program at Triton College because she felt not having a high school diploma was standing in the way of being successful. A mother to a 3-year-old daughter and working as a professional caregiver to the elderly, she wants to start a career in the medical field.
"Helping people makes me happy and I want to be a nurse," Ibarra said. After completing the High School Equivalency Program, she enrolled in prerequisite classes for the Registered Nurse (RN) Program at Triton.
Students making the transition from Adult Education programs into college-level courses often have a different set of challenges than students who enter postsecondary education directly from high school. For adult students developing academic skills and study habits, strengthening time management skills to manage home life, work and school all while navigating course selection and the financial aid process can be daunting.
Triton College's commitment to educating and serving the community includes providing both academic programs and scholarships to students, which is encouraging to students that express interest in transitioning into degree and certificate programs.
Adult Education programs at Triton include English as a Second Language (ESL), U.S. Citizenship, High School Equivalency, Adult Literacy, and various certificates and courses for professional advancement.
Ibarra received financial support via a Board of Trustees Scholarship for the 2020-2021 school year, a scholarship specifically available to Adult Education students that have completed the ESL or HSE programs.
"From the beginning, I could see her desire and determination in achieving her goals," James Malarski, Adult Education instructor, said. "The drive she exhibits will carry over into her college and professional career."
Now as a first-generation college student, Ibarra's daughter is her main motivation. She wants to be an example to her for what it means to persevere.
"Time is going to pass anyway. You might as well go to school now instead of wondering what could have been had you gone before," Ibarra said.