NASA MINDS
Triton College partners with Fisk University to participate in NASA MINDS experience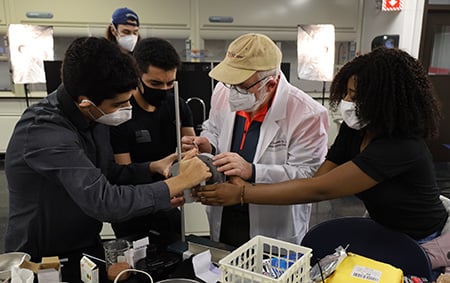 Nine Triton students, led by pre-engineering student, Oumou Touré, formed a team to design and build a rocket thruster as participants in NASA's Minority University Research and Education Project (MUREP) Innovative New Designs for Space (MINDS) along with fellow students from Fisk University, a Historically Black College and University (HBCU) in Nashville, Tenn. Thirty-five teams from colleges and universities across the United States submitted technology project designs for NASA's Artemis mission and Human Exploration and Operations (HEO) Mission Directorate.
The NASA Artemis mission is scheduled for November 4, 2021. The mission will land the first woman and first person of color on the Moon.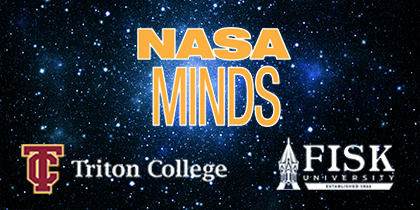 The joint team, mentored by Triton chemistry professor, Rudy Gostowski, Ph.D., and Fisk University faculty member, Kent Wallace, Ph.D., had several advisors from the engineering industry. Additionally, five students from the Government College of Engineering, Keonjhar, India, also joined the Triton-Fisk Team. The team collaborated via Zoom and shared information through the online virtual world, Second Life.
"NASA MINDS is not a competition but rather a hands-on design and build collegiate learning experience," said Gostowski. "The students gained insight on how engineering projects are organized and managed. I hope that by participating in the experience they were able to further develop their teamwork abilities and acquire some new skills."
Anh Nguyen, now a junior at Franciscan Missionary of Our Lady University in Baton Rouge, Louisiana, was a Triton College-Fisk University team member.
"The NASA MINDS experience allowed me to further develop my teamwork, time management, and communication skills," Anh Nguyen said. "It was such a pleasure to work with the as Fisk students their knowledge and skills were invaluable assets to the team.
The experience fueled Nguyen's interest in doing research. The experience gave the team exposure to the different challenges scientists have to face while conducting a research, Nguyen said.
The students used an industry-standard 3D CAD design software to design the rocket thruster. The team ultimately submitted a video showing the 3D-printed plastic prototype test, a technical paper, a technical poster, a team video and a NASA Subject Matter Experts Presentation. At the end of the months long experience the Triton-Fisk team was recognized along with other NASA MINDS participants in an online closing ceremony hosted by NASA with Winston E. Scott, a NASA astronaut, as the key speaker.
Triton NASA MINDS Team
Sherri Cox
Carleen Deegan
Juan Lopez
Sumaya Muharram
Amine Nbigua
Mohammed Nbigua
Anh Nguyen
Chris Rivera
Paul Romano
Oumou Touré
Triton NASA MINDS Team Advisors
Matt Cannella – Ball Aerospace
Michelle Harton – Former Engineer at Honeywell and Recently CPA Math Teacher
Steve Rodgers – Former Research Director at ATK/Thiokol, Lab Director at NASA
Sarah Hamilton – Triton Chemistry Lab Coordinator, Former Triton Student, Loyola University Chicago Alumna