Alondra Montenegro and Dominik Radzik
Student Success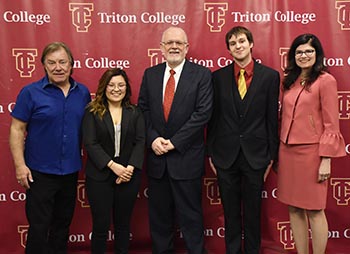 Triton College sophomores Alondra Montenegro (second from left) and Dominik Radzik (second from right) were among one of the few teams of community college students to present at the National Science Foundation's Illinois Louis Stokes Alliance for Minority Participation (ILSAMP) Symposium in spring 2019. Presenters hailed mostly from area four-year colleges and universities, but that didn't stop the judges from awarding the Triton team second prize overall for their chemistry research project titled "The Perfect Finish".
With the mentoring of Triton Chemistry Department lead instructor Dr. Rudy Gostowksi (center), Dominick and Alondra researched the impact that light and other elements had on the degradation of various varnish finishes.
Both students said participating in the symposium was an enriching experience.
"There was a lot of student interaction, we had the chance to meet other students and learn about the projects and research that they were working on. It was a great experience and we're thrilled to take second place," said Alondra.
Dominick, a Norridge resident and Guerin College Prep graduate, will transfer to the Illinois Institute of Technology, where he will study chemical engineering.
During his time at Triton, Dominick served as a peer mentor and was active in a number of extra-curricular activities, including Math Team and Chemistry Club.
Alondra, a Cicero resident and Morton East High School graduate, will continue her studies at Domincan University, where she plans to study math and chemistry.