Thomas Billups Jr.
Student Success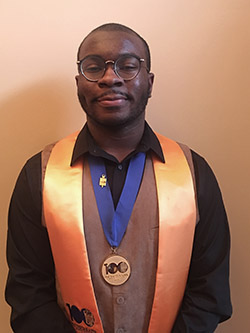 Thomas Billups Jr., a sophomore Information Technology student, has been named a 2019 Coca-Cola Academic Team Bronze Scholar and will receive a $1,000 scholarship.
Students are nominated for the academic team by their college administrators. Selection is based on academic achievement, leadership, and engagement in college and community service.
"I was truly honored to receive this scholarship," said Billups, a Berkeley resident and graduate of Walther Christian Academy. "I worked so hard to get to this moment, and I could have never made it without the help of my parents and people I surrounded myself with. Not only am I representing Triton, I'm also representing the African American community. It's truly a huge honor to let people know that Black people are out here making academic achievements."
Billups serves as an officer in Triton's Phi Theta Kappa Honors Society chapter, and is a member of Triton's Black Academic Student Association (B.A.S.A.) and TRIUMPH Program. He plans to transfer to DePaul University and pursue a career in the cybersecurity industry. Billups is active in his community, volunteering at Oak Park Rush Hospital and the Hillside Elementary School among others.
The Coca-Cola Scholars Foundation sponsors the Coca-Cola Academic Team program by recognizing 50 Gold, 50 Silver and 50 Bronze scholars with nearly $200,000 in scholarships annually. Each scholar also receives a commemorative medallion.