GENIUS Program
The GENIUS (Geo-Engineering Innovations through Undergraduate Scholarship) Program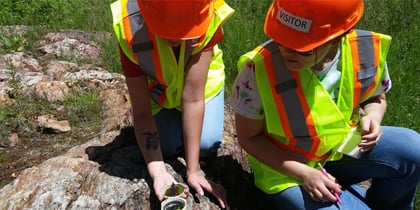 The Geo-ENgineering Innovations through Undergraduate Scholarship (GENIUS) program is for prospective and current Triton College students pursuing any Science, Technology, Engineering, and Math (STEM) area concentration including: Biological Sciences (except medicine and other clinical fields); Physical Sciences (including Physics, Chemistry, Astronomy and Materials Science); Mathematical Sciences; Computer and Information Sciences; Geosciences; Engineering, and Technology areas associated with the preceding disciplines (for example, Biotechnology, Chemical Technology, Engineering Technology, Information Technology, etc.).
---
Scholarship Award
Full Tuition, Fees, Books and Supplies up to $10,000 per year up to 3 years plus 1 summer course
---
Key Components of the Program

:
Summer enrichment program which includes campus tours and a hands-on introduction to Environmental Science and Engineering

GENIUS Seminar Course

Research project that is related to Environmental Science and Engineering
Small group mentoring with STEM faculty
---
IIT Transfer Opportunity
GENIUS program scholars are also eligible for the GENIUS Scholarship at Illinois Tech.
The scholarship they offer is for $25,000 per year until a student graduates with a bachelor's or master's degree.
---
Eligibility

:
MUST be a Full-Time student
MUST be pursuing a STEM area of study
MUST submit a FAFSA (Free Application for Federal Student Aid) and demonstrate an unmet need
MUST have a cumulative GPA of 2.75 from HS or college
MUST complete a one-page essay on why you want to pursue a STEM area of study
MUST submit at least one letter of recommendation from an instructor, counselor, or administrator that provides evidence of academic success or potential
---
Request for Information:
If you plan to apply for admission to Triton College and are interested in the GENIUS program, fill out the information form below. The Program Coordinator or the Program Lead from the Environmental Science and/or Engineering Technology department will contact you to answer any questions you may have, send you additional information, and walk you through next steps in the application process.
---
Application Process

:

To apply for the GENIUS program, students must access the Triton College Electronic Scholarship Application through the student portal. If you are not a triton student yet and do not have access to the student portal, complete an application for admissions. Once you complete the Triton College application, contact webadvisor@triton.edu and request access to the portal. Please include your name and date of birth in your email to ensure accurate assignment of your user name and password. After you are given your user name and password, you may then sign into the Triton College Electronic Scholarship Application page.

Deadline for applications Fall 2020: December 15, 2020

For more details about the GENIUS program and how to apply, go to: https://triton.academicworks.com/
---
Contacts

:

For general information and questions about the scholarship contact:
Renee Muehlbauer, M.Ed.
GENIUS Project Coordinator
(708) 456-0300, Ext. 3313
reneemuehlbauer@triton.edu

For questions about Geology and Environmental Science contact:
Sheldon Turner, Ph.D.
Faculty/Environmental Science
(708) 456-0300, Ext. 3008
sheldonturner@triton.edu

For questions about Engineering or Engineering Technology contact:
Andrea Blaylock, M.A, BSEE
Faculty/Engineering Technology
(708) 456-0300, Ext. 3507
andreablaylock@triton.edu