Welcome to Summer
SUMMER CLASSES BEGIN MAY 23, 2022!
---
Summer classes are a great time to get ahead. You can take an extra class toward your associates degree and graduate sooner. If you attend a four-year college or university, save money and take a class while you are home for the summer! Get a jumpstart on your career and enroll in a certificate program. You may even have financial aid funds available, so register now!
What you should know before coming to campus.
---
Students
Students attending other colleges or universities who are interested in taking summer classes at Triton.
Individuals who are interested in enrolling at Triton College this summer.
Students who are enrolled at Triton College looking to take summer classes.
---
Want to know what courses we offer?
Explore our summer course schedule
Summer Schedule - Catalog View
Not sure where to start?
Get in touch with us!
---
Higher education, without the higher cost
Triton College offers an education equal to that of most private colleges or public universities
at dramatically lower prices – all close to home!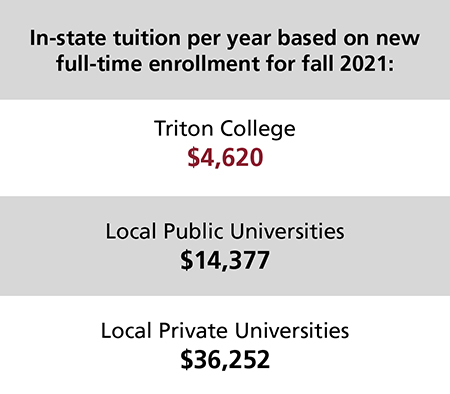 With scholarships and financial aid available, you can see why Triton College
is the most affordable choice for a quality college education.
---
In your Neighborhood
Triton College is close to home and offers over 110 programs and certificates to choose from. In addition if you live outside of the Triton district but work in the district, you are eligible for in-district rates.
Click HERE to download district map.
---