May 14, 2018
Triton's GENIUS Scholarship Program to Support Talented Science Students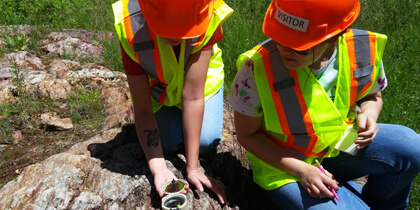 Academically gifted students from low-income backgrounds are encouraged to apply for Triton College's new Geo-Engineering Innovations through Undergraduate Scholarship – or GENIUS – Program. The program awards full-ride scholarships for students pursuing careers in geology, environmental science, engineering and related fields.
Along with the scholarship, the program includes intensive mentoring and coaching from Triton's expert faculty and staff. Students will also have opportunities to conduct research and participate in a summer fieldwork seminar as part of their course of study.
The GENIUS Program is supported by a five-year grant of $650,000 through the National Science Foundation's Scholarships in Science, Technology, Engineering and Mathematics (S-STEM) Program. Nearly $400,000 in grant funds will support student scholarships, with the remainder of the funds to cover equipment, research, mentoring and other support services.
GENIUS program completers will be prepared to transfer to a four-year college to pursue a bachelor's degree, or succeed in careers in which they will help protect water resources and address other environmental issues.
"There's a big workforce need," said Triton College science professor Dr. Sheldon Turner, the grant's principal investigator. "There is a growing number of environmental science jobs out there and we are excited to take the lead on preparing students to succeed in those roles."
The 10-year projected growth rate in Illinois for geo-engineering occupations is between 15 percent and 20 percent, which is substantially higher than the national average for all occupations.
The GENIUS Program scholarships will cover tuition costs for two groups of 20 high-performing students. One group will begin in the fall 2018 semester and the second group in the fall 2019 semester.
Students must be financial aid eligible and meet certain academic standards to qualify for the scholarships. Students interested in applying for the fall 2018 semester are encouraged to submit their application as soon as possible. Priority will be given to students who apply before July 1. Visit GENIUS program for more information.