November 23, 2020
Triton College Alumni Association raises over $8,000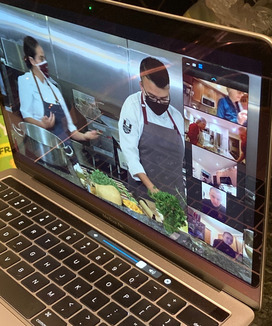 Triton alumna and adjunct faculty member Chef Carolina Diaz recently hosted a "Tri it" Virtual Cooking Class to raise money for the Triton College Alumni Association's Alumni Legacy Scholarship. The livestreamed interactive class featured the Northlake, Ill. native and Proviso West graduate as she prepared Butternut Squash and Kale Pasta.
Registered participants were able to watch and interact with her from their homes. In all, participant donations totaled $3,645. The scholarship fund also benefited from a $5,000 donation from Barilla. The pasta company also donated 150 units of Collezione, Blue Box, and Legume pasta along with Pesto sauce and Vero Gusto sauce. The Barilla product donations mitigated event costs allowing more of the proceeds to fund the Alumni Legacy Scholarship.
"Everyone has been impacted by the current COVID-19 environment and we recognize that it has put a strain on many of our community members' financial means. We are grateful for all the contributions," said Jessica Rubalcaba, director of Business Services, who oversees alumni relations for the college.
Chef Diaz became a Barilla International Master of Pasta in 2018. The company generously donated to the scholarship fund in support of Chef Diaz's efforts to engage with alumni and community members.
"It was exciting to host an event of this kind. We took an innovative approach to interacting with supporters despite not being able to gather in person," Diaz said. "It is all for the benefit of our students."
In addition to being a Triton College adjunct faculty member, Diaz is head chef at Terzo Piano located inside of the Art Institute of Chicago.
At the top donation level, participants received the featured entrée's main ingredients including Barilla pasta and sauce. The participants' packages also displayed Triton College students' work and included:
Red Beard's Private Reserve hot sauce produced by a Triton student.

Chocolate truffles, biscotti, and chocolate chip cookies with sea salt made by Triton College Hospitality Industry Administration (HIA) Program students.

A cookbook featuring recipes from Triton College HIA students.
A bottle of wine featuring a label designed by Triton College Visual Communication Graphic Design Program students.

A basil plant from the Triton College Horticulture Department.

A Cernan Earth and Space Center four-ticket pack with a gift.

A Triton College branded cup, Triton College branded masks and hand sanitizer.

The entire package was placed in a reusable wooden container custom-made by Triton College Engineering Technology students.