Chef Carolina Diaz
Quality Faculty and Staff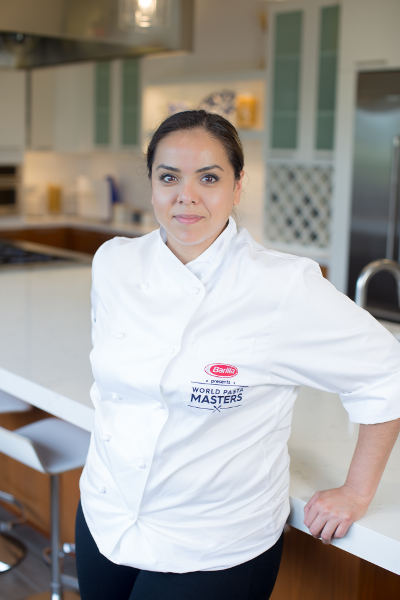 From creating dishes inspired by fine art to preparing a new generation of chefs and restaurateurs – Triton College Culinary Department faculty member Carolina Diaz loves to share her passion for cooking, especially pasta.
Her skills and passion helped earn her the title of the 2018 Barilla Pasta International Master of Pasta. In October 2018, Chef Carolina traveled to Milan, Italy where she competed against top pasta chefs from around the globe. Her signature dish, Spaghetti al Pomodoro, wowed the judges and earned her the crown.
Diaz, who is originally from Northlake, attended Triton College as a student with plans to major in psychology, before changing course to pursue a career in the culinary and hospitality industry. In addition to serving as a faculty member of Triton's Jerome J. Drosos School of Culinary Arts, she is also the head chef at Terzo Piano Restaurant, located inside of the Art Institute of Chicago. There, the self-described pasta specialist delights guests with Mediterranean cuisine, some of which is inspired by exhibits on display at the museum.
"I started making dumplings, from there I transitioned to pasta and it turned into a passion. Once I figured out I could make the dough myself, I fell in love with it. I enjoy making shapes with my fingers, it's therapeutic," she said.
This fall, she is teaching Food Prep Essentials, Italian Cooking and Butchery courses to students enrolled in Triton's renowned Culinary Program.
"We take a hands-on approach and take time to individually teach each student. That's what students crave and I believe that is the best way to help students succeed in their careers," she said.
Triton's Jerome J. Drosos School of Culinary Arts features associate degree programs in Culinary Arts, Baking and Pastry, Hotel/Motel Management and Restaurant Management. For more information or to enroll, contact Jerome J. Drosos School of Culinary Arts Program Coordinator Denise Smith-Gaborit at (708) 456-0300, Ext. 3624 email denisesmithgaborit@triton.edu or visit www.triton.edu.