Dr. Richard Chan
Quality Faculty and Staff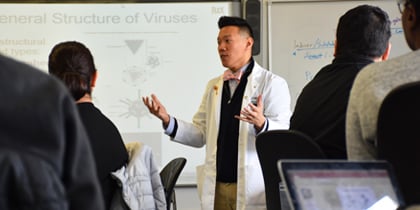 Students enrolled in classes taught by Dr. Richard Chan will not only leave Triton ready to continue their path of academic success in microbiology, human anatomy and physiology, and other health and science fields – they'll also leave with a mentor and confidant.
"A lot of my former students still contact me regularly just to give me updates on what they're doing now – and I offer advice as they're starting graduate courses or starting their careers," said Dr. Chan.
In the classroom, Dr. Chan says he takes a clinical approach that teaches students how to diagnose and treat various infectious diseases.
"We do a lot group activities based on case studies and the students see the application of the things they're learning."
Dr. Chan's dedication to his students spans beyond the classroom. He serves as the advisor for Triton's SciMad (Science and Medical Advanced Degrees) Club, a pre-professional group designed for students planning to enter graduate and doctorate level programs in health and science.
Additionally, he and several of his students regularly volunteer at Community Health Clinic in Chicago, the nation's largest volunteer-based free clinic in the nation.