2021 Outstanding Adjunct Faculty - Kelley McFarland
Congratulations to Kelley McFarland, Ph.D., Triton College's 2021 Outstanding Adjunct Faculty Member of the Year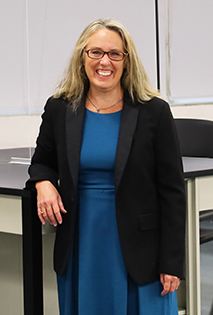 The moment students step into the class of Kelley McFarland, Ph.D., at Triton College they realize her classroom is interactive and her teaching style is collaborative. McFarland knows biology can initially be intimidating. She makes the subject approachable.
"Since I teach introductory courses, my goal for students is to be successful in my course but also to develop skills to use throughout their college and professional careers," McFarland said.
She teaches biology, but also explains how to learn, how to study and how to be prepared for college. This led to McFarland earning the 2020-2021 Outstanding Adjunct Faculty of the Year Award.
"She is really doing an extraordinary job for students," said Maxwell Sanei, a Triton College biology lecturer. "I was impressed by her lecture notes and study guides that she designed for each class," he said in his nomination letter.
McFarland's teaching is informed by her own experiences, both as a teacher and as a student. She earned a bachelor's degree in biology from the University of California at Irvine. She holds a master's degree and doctorate in biological anthropology from the City University of New York.
"I want my students to know they are capable of understanding complicated biological processes," McFarland said. "And that science is important and relevant to their daily lives."
McFarland appreciates the small classroom setting at Triton that fosters personal student-instructor interactions.
One of McFarland's students, Adam Saleh, said her class and instruction style was instrumental in him changing majors from accounting to biology. He has applied to the Nursing BSN Program at the University of Illinois at Chicago. Nine hundred students vied for 96 seats and Saleh was accepted.
"You helped me a lot, not only as a professor in BIS 100, but as a person," Saleh said in a note to McFarland.