2021 Outstanding Full-Time Faculty - Justyna Koc
Congratulations to Justyna Koc, Triton College's 2021 Outstanding Faculty Member of the Year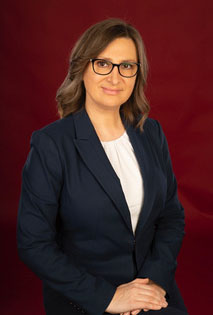 Justyna emigrated to the United States when she was 18 years old. She had to learn English and acclimate to American culture, and quickly find employment. Justyna often shares the obstacles she faced and how she overcame them with her students to inspire them.
Justyna went on to earn an associate degree from Northwestern Business College, a bachelor's degree in business administration from DeVry University and an MBA from Keller Graduate School of Management. All while working full time. She is currently working toward a doctorate degree in higher education leadership from National Louis University in Chicago.
In addition to sharing her personal story, Justyna hopes to motivate her students by coordinating real-life experiences and professional opportunities into the classroom. "I want to show my students what the accounting field has to offer," Koc said.
She has coordinated visits to local four-year universities, guest speakers from the CPA Society, coordinated LinkedIn and resume-writing workshops, planned a visit to the Federal Reserve Bank of Chicago and countless other professional speakers, workshops and information sessions on the CPA examination and the field of accounting.
"I am proud when my students earn internships, transfer to four-year universities and apply for jobs. I am proud that I played a small role in their success," Koc said.
The goal is for her students to not only be successful in her course, but to also help them cultivate skills that will help them through their college career and into their professional career.
"Justyna is a very driven person who loves her profession and subject. Thanks to her, I was able to do my internship program successfully and find the job of my dreams in a large accounting firm while studying toward my degree," Galyna Liuba, an accounting/finance student at Triton College said.