November 10, 2020
Triton College receives top award for STEM summer camps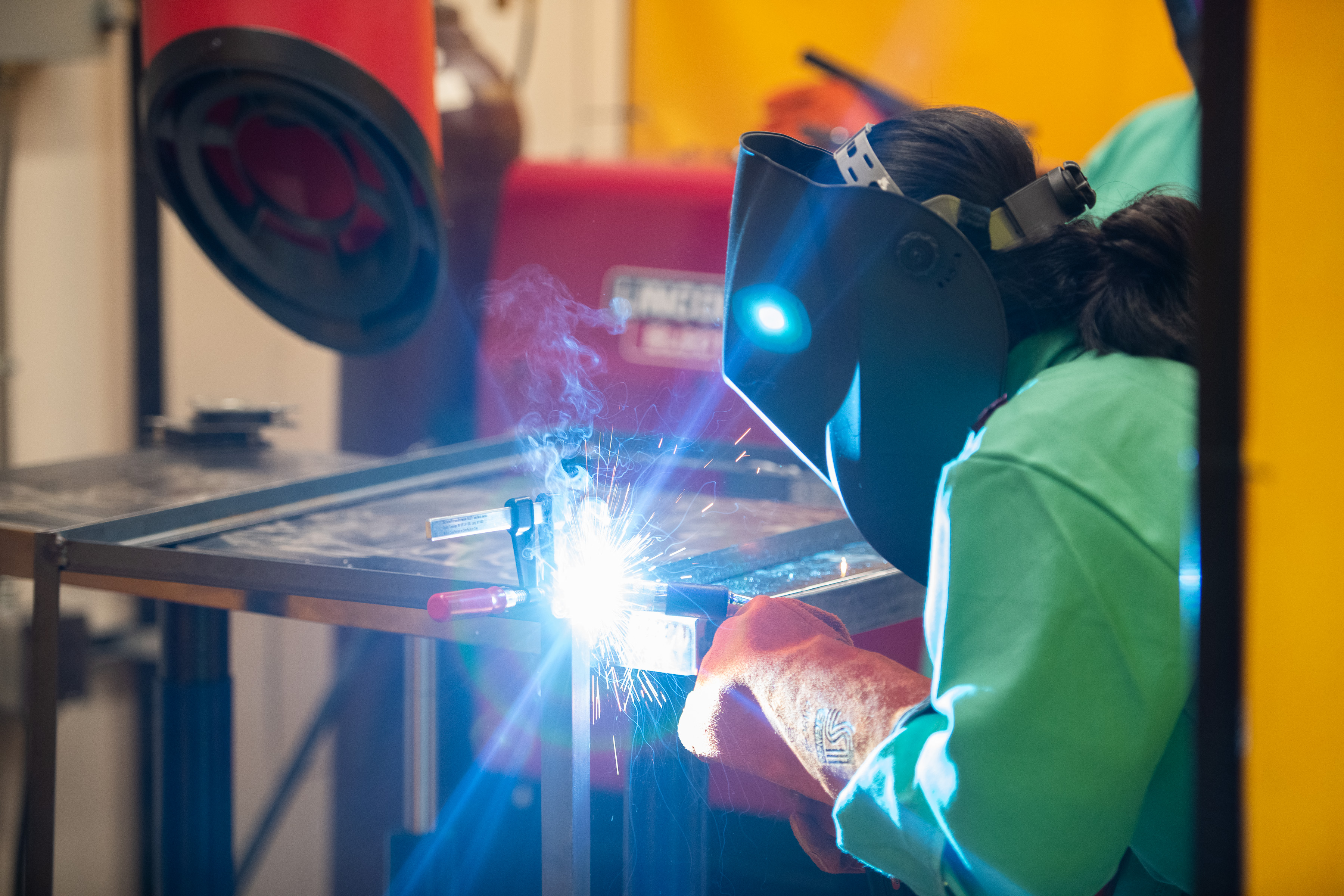 Triton College received a top award from Nuts, Bolts & Thingamajigs (NBT), the charitable foundation of the Fabricators & Manufacturers Association, International. The college won the "Future of Industry" Award from the foundation which honors a school or organization that has created a successful and sustainable summer manufacturing camp program. Triton College was nominated for the award for producing two science, technology, engineering and math (STEM) summer camps for girls that introduce engineering technology educational concepts and hands-on skills used in the manufacturing industry.
"It is an honor to be considered a trailblazer in helping meet the future talent needs of manufacturing. As a part of our commitment to closing the industrial skills gap, we will continue to be a part of teaching the next generation of manufacturing professionals and introducing them to available careers tracks," said Jennifer Davidson, Ph.D., dean of Business and Technology. "I am very pleased that our faculty members are being commended for their innovative and educational community programming in the STEM fields."
GADgET, Girls Adventuring in Design, Engineering and Technology, is for participants between the ages of 10 and 14 to gain hands-on practical experience with engineering tools, including computer-aided design (CAD), 3-D printers and a laser cutter. The campers use industry-standard equipment to manufacture their own gadgets using a plan they design. Supported in part by NBT camp grant funding, created by Triton College Engineering Technology faculty member Antigone Sharris in 2010 and led by Triton College Engineering Technology faculty member Andrea Blaylock, the GADgET Camp has been replicated by the College of DuPage, Daley College and Ridgewood High School. Sharris assisted the schools in launching and operating their own GADgET Camps.
GLoW, Girls Learning to Weld, guides campers between the ages of 12 and 16 through hands-on welding projects. Created by Sharris in 2019, the camp covers safe welding practices, the different types of welding, prototyping, metal layout, and academic and career opportunities where welding is a key skill.
During past GADgET and GLoW camps, participants have made desk organizers, desk lamps, pet toys and accessories, phone charger stations and holders, candy and gumball dispensers. The campers attend company tours and guest speakers talk with the campers about manufacturing career opportunities in the local area. Companies such as Century Metal Spinning (Bensenville, Ill.), Excel-Kaiser (Franklin Park, Ill.), The Sureway Group (Franklin Park, Ill.), ACE Metal Crafts (Bensenville, Ill.) and unions, such as the Pipefitters Local 597, have welcomed the campers to their shop room floors to gain a better understanding of the manufacturing industry.
"The underlying goal of both camp programs is empowerment," said Sharris. "While manufacturing is of course the target industry, we want the girls to develop critical thinking, project organization and teamwork skills they could use in any field they choose."
The other category finalists were The Robert Byrd Institute for its Makers Camps and Northeast Alabama Community College for its various manufacturing summer camps.