Alumni Benefits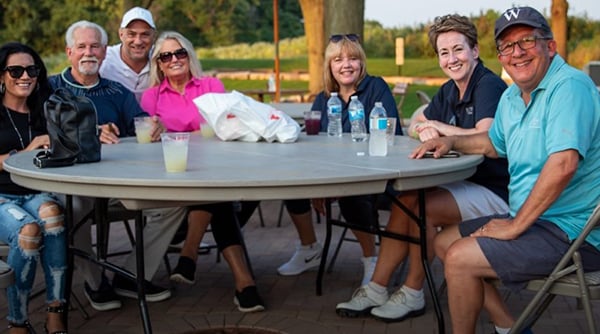 As Triton College alumni, you're entitled to a variety of benefits, resources, and privileges. Alumni are invited to come back to campus to participate in a variety of special college and alumni events.
Benefits include social opportunities such as reunions, golf outings, and opportunities to re-connect with a classmate. For professional development, you have access to Career Services, library privileges, and opportunities to network. You can get discounts on a variety of events at the Fine Arts Center and the Cernan Earth and Space Center. Read on to learn more about the benefits of being Triton College alumni.

Bookstore
Enjoy a 10% discount at the Triton College bookstore on spirit wear during authorized promotions throughout the year. The bookstore, located on Triton's campus sells new and used textbooks, reference books, and general reading material, as well as office supplies, software, electronic products, gifts, and a full line of Triton apparel. See the bookstore for further details (must be purchased on campus).
Career Services
Triton alumni can receive assistance from Triton Career Services for:
Career decision making
Resume writing
Job search skills
Job fairs
Access to CareerCube

A person's profile is more likely to be viewed on LinkedIn when using a professional picture. CareerCube puts you in charge of a high-end studio where you're in control of the final product. CareerCube is used in the following workshops and programs:

Career Services (open to college and community members)
Social Media
LinkedIn
Visit the Career Services Center website for more information.
Cernan Earth and Space Center
The Cernan Center houses a 100-seat dome theater that features planetarium shows, wraparound films, children's shows, and laser light shows, along with an exhibit hall and gift shop. Open to the public, the Center is also available for private rental. Receive a free ticket to the shows and a discount at the Star Store by calling Alumni Relations at 708-456-0300, Ext. 3692. Visit the Cernan Earth and Space Center website for more information.
Transcripts
Alumni can contact Triton Alumni Relations for information about how to request transcripts. Another option is to click the link to the Transcript Request page for further instructions on how to request a copy of your official transcripts.
Triton College Foundation
The Triton College Foundation is the nonprofit corporation established to extend the campus and programs of Triton College to better serve its students, communities within District 504, and alumni, by raising and stewarding investments for the institution. Giving back to your alma mater can make a huge difference in the lives of students and the community.
Alumni support for Triton College through gifts to the Triton College Foundation help to provide the resources for providing a world-class education to Triton College students. A gift to the Foundation shows your commitment to the college, your connection to your classmates, and your dedication to today's and tomorrow's students. No gift is too small, and every gift counts.
Triton Library Privileges
Residents of the Triton College district are welcome to use the Library. The Triton Learning Resource Center also honors reciprocal borrowing privileges to individuals with cards from area libraries. For more information, see the Triton College Learning Resource Center website.