Membership Program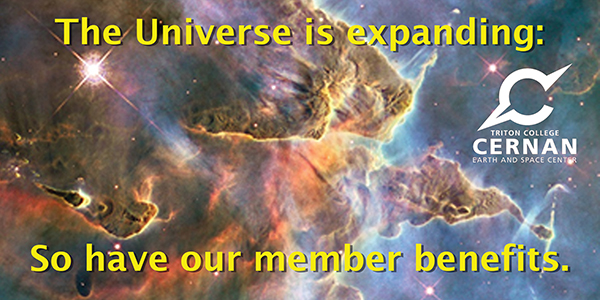 Printable Brochure & Membership Application
Why Expand the Universe?
Your membership comes with benefits and supports the educational and outreach mission of the Cernan Earth and Space Center. Our goal is to increase awareness, understanding and appreciation of the incredible Universe in which we live.
The heart of the Cernan Center is the Planetarium where programs take audiences of all ages on dramatic voyages of discovery. Astronomy and space exploration are frequent topics, but some shows address other sciences such as geology, meteorology, engineering, paleontology - even astrobiology. Other programs explore history, culture, art, music and more.
The Planetarium also presents Cosmic Light Shows where brilliant laser light, fulldome digital effects and thousands of stars perform to the amazing music of artists such as The Beatles, Pink Floyd, Queen and Michael Jackson.
---
Basic Membership Benefits
Unlimited FREE admission to regular public programs - For those named on the membership (number of names based on membership level, see next section below)
Discounted admissions - When visiting guests join you at the Cernan Earth and Space Center, up to six (6) people will be admitted at the youth price
Email Updates - Receive the latest news and reminders delivered electronically
Quarterly Newsletter - Printed material about programs and events including monthly sky calendars
Abrams Sky Calendar - A detailed overview of what is visible in the sky each month
Invitations to Special Events - Preview new shows or enjoy a guest speaker
Discount in the Star Store - 10% off your purchase with your membership card
Member Telescope Loan Program - Check out a basic telescope for a month for your own use for FREE
FREE or Reduced Admission to hundreds of other museums - Since the Cernan Earth and Space Center has joined the Association of Science-Technology Centers (ASTC) Passport Program, you will be able to present your membership card to receive FREE or reduced admission at more than 300 ASTC member institutions across the United States and around the world. Read the ASTC Travel Passport Program Instructions carefully.

---
Choose Your Annual Level of Support
Skywatcher - $50 (2 names on membership)
Stellar Supporter - $110 (4 names on membership)
Galactic Giver - $250 (6 names on membership)
Cosmic Contributor - $500 (8 names on membership)
Cernan Circle * - $1,000 (8 names on membership)
* = Members of this level of support also receive one FREE group program for up to 100 people, scheduled at a mutually agreed time. The member can choose the audience or allow the Space Center Director to identify a disadvantaged group.
Higher level memberships are for philanthropic-minded individuals who wish to support new programming, technology upgrades, and special activities. Additional benefits are available at higher levels. Call (708) 456-0300, Ext. 3408 for details.
Contributions are tax deductible for income tax purposes in the amount and to the extent provided by law.