Cernan Earth and Space Center
---
Cernan Public Shows Calendar
NOTICE: All Cernan Public Shows and Events are canceled until further notice. Please check periodically for updates.
Even with social distancing, you can still get out and look at the real sky. To help you do that, follow us at www.facebook.com/cernancenter or call 708-583-3100 for sky information. We will also be posting links to interesting resources and activities for all ages.
You can also download the Monthly Sky Calendar created by the Abrams Planetarium at Michigan State University. Note, you can subscribe to their sky calendar for a very modest fee.
Hope to see you in our space again soon.
Explore the wonders of the universe and the latest discoveries in astronomy, space exploration, and geoscience at the Cernan Earth and Space Center, a unique space-age facility that combines education and entertainment for visitors of all ages. Open year-round, the Cernan Center is conveniently located on the campus of Triton College in Chicago's western suburb of River Grove. The Cernan Earth and Space Center offers diverse programs and events.
For more information, please call the Cernan Earth and Space Center at (708) 456-0300, Ext. 3372, or email the Cernan Center at cernan@triton.edu. If you live in the Chicago area, please email us your name and address to join our mailing list.
Take Virtual Tour of
Cernan Earth & Space Center


Events and Prices are subject to change.
IMPORTANT: This Web page cannot provide last minute changes to our public show schedule, such as weather-related cancelations.
Please call our Program Line at 708-583-3100 for up-to-the-minute information, particularly if you are coming from a distance to see one or more of our shows.
Cernan Earth & Space Center Driving Directions & Campus Map

Follow the Cernan Center on Facebook
---
Current Schedule
TBA when Cernan Center Re-opens
---
Show Descriptions
Dome Capacity: 93 seats
An out of this world experience in the Cernan Earth and Space Center planetarium typically lasts one hour. Regardless of the show topic there will be excitement and content for children, adults and senior citizens.
E&S Digistar 6 software drives a fulldome, digital projector to cover the entire surface of our 44 foot diameter dome with full color images, animation and the starry sky to take audiences of all ages on a trip beyond the final frontier.
A planetarium program provides a great kickoff or climax for your studies of astronomy, space exploration and a variety of other subjects. Small groups are welcome to attend any regular scheduled public program, but it does help for all groups to call and book their visit in advance. Groups can also book private shows throughout the year. See School and Group Reservations for all the details.
Cosmic Light Show Descriptions
Continue exploring the final frontier!
The Cernan Earth and Space Center at Triton College is a great place to experience the wonders of the Universe, but there is much more to explore than can be included in any one planetarium show.
Visit our Show Descriptions section to see trailers for most programs plus suggestions for further exploration related to each show available: web links, book lists, pre and post visit activities and more.
All information subject to change without notice.
---
Skywatch plus

FREE Public Star Parties

No Skywatch or Star Parties at this time.
---
FREE Public Star Parties
No Star Parties at this time.
---
Star Store
Welcome to the Star Store, located in the Cernan Earth and Space Center in the I-Building. If you live near or plan to visit the Chicago area, you can visit the Cernan Earth and Space Center and its Star Store gift shop in person. The Star Store offers an assortment of unique gifts. Books, t-shirts, sweatshirts, binoculars, science discovery kits, coffee mugs, posters and unique toys are just a few of the many items for sale. Merchandise from the Star Store can also be ordered by telephone during regular business hours.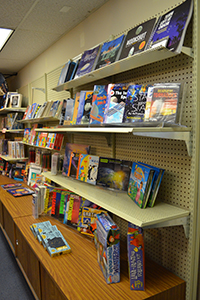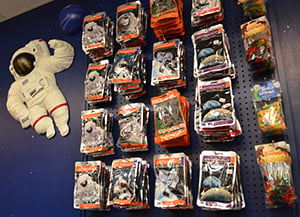 The above t-shirts are currently available for purchase in the Star Store.
Cernan Center Star Store, Triton College
2000 North Fifth Avenue
I Building
River Grove, IL USA 60171
(708) 456-0300, Ext. 3408
Star Store Hours
Monday thru Friday: 9:30 a.m. to 4:30 p.m.
Saturday: 6:30 p.m. to 9:30 p.m.
Sunday: 1:30 p.m. to 4:00 p.m.
If you have specific questions, please call the Cernan Center's Star Store Manager at (708) 456-0300, Ext. 3272 or e-mail us at cernan@triton.edu.
---
Cernan Earth and Space Center Staff
Kris McCall : Director
Wayne C. Foster : Planetarium Educator
Joyce Edwards-Robertson : Reservationist, Accountant, Office Assistant
Marylu Casale : Star Store
Neil Wickman : Planetarium Producer and Programmer
Joe Schultz : Technician
PART TIME PROGRAM PRESENTERS
Dan Troiani