Loans
Students who wish to request Fall only loan period must have a completed
Financial Aid file and submit their loan request by December 8, 2023
Loan students must also have a completed FAFSA
---
William D. Ford Federal Direct Loan (FDL) Program
Triton College offers Federal Direct Loans to students in a degree-seeking or certification program, who are enrolled in a minimum of six credit hours (half-time) each semester.
Federal Direct Loans are for eligible students to help cover the costs of higher education. These Federal Loans are borrowed funds that you must repay with interest, but usually offer lower interest rates and have more flexible repayment terms and options.
Click HERE for full information regarding the Federal Direct Loan Program.
---
Eligibility
Be an undergraduate student in a degree-seeking Academic Program or Certificate (min. of 16 total credits) Program
Have a completed Financial Aid file

Submit a FAFSA
Submit any required documents needed to complete your file via your Student Forms account
Contact your Financial Aid Advisor if needed

Be a U.S. Citizen or eligible resident non-citizen
Be enrolled in a minimum of six (6) qualifying credit hours each semester of the loan period
Have no unresolved defaults or overpayments owed on any Title IV educational loans or grants
Be in good standing with Triton's Satisfactory Progress (SAP) standards
Complete Online Requirements (via StudentAid.gov)

A valid Master Promissory Note (MPN)
Complete Entrance Counseling for Triton College
---
How Do I Apply for a Loan?
Triton College requires 3 steps to apply for a Federal Direct Loan
---
Loan Area Policies
Approval
The Financial Aid Office is authorized, on a case-by-case basis, to deny a student's loan request to students without documented educational expenses, poor academic performance, prior student loan defaults and/or excessive loan indebtedness. It is the policy Triton College to only recommend Federal Direct loans (FDLs) for students as a last recourse in financing their college expenses.
The Student Loan Specialist may need to contact you for additional information during the certification process. In compliance with auditing regulations, all communications will only be sent to your Triton.edu email address. All communication from the student must come from their official Triton.edu email. Failure to provide any additional information requested will result in a delay or cancellation of your loan request.
The Loan Specialist will notify you via email once your loan request has been awarded. Please allow up to three (3) weeks for processing during peak times.
Cancellation
You can cancel your loan request at any time before your funds are disbursed. If funds have been disbursed, you must make your cancellation request within ten (10) days of disbursement and all funds disbursed must be returned in full. Cancellation requests must be made in writing (email) from your official Triton.edu email account to the Loan Specialist's email LoanSupport@triton.edu.
Release of Funds
All Federal Aid, including FDLs, are tied to your enrollment. Per Federal regulations, the first loan disbursement is scheduled for at least 30 days after your earliest class start date. All anticipated disbursement dates can be found on your Triton Student Portal once your loan request is awarded.
All FDL disbursements are required to be paid out in two (2) equal amounts. If a second disbursement is required for a single semester loan, it will take place after 50% of the class length has passed. Students must be enrolled and actively participating in a minimum of six (6) credit hours at the time of disbursement to maintain eligibility. Students who are enrolled in late start classes will receive their disbursements after at least 50% of their class length has passed. All disbursement dates displayed will be the earliest your funds are disbursed.
Bookstores Purchases
Once your loan request has been awarded, you may use any credit on your account balance at the Triton College Bookstore. Funds awarded before the start of the semester may be used in the bookstore beginning one week prior to the semester start date. Purchases made outside of the official Triton College Bookstore are the student's responsibility. You will need your school ID and Colleague ID number to use your account credits at the bookstore.
Return of Finds
The amount of Federal financial assistance that a student receives is based on the successful completion of all registered coursework. Any student who withdraws, never attends, or is administratively dropped from all classes before the 60% completion point for the semester or module will be subject to a return of funds calculation and will be required to return a portion of any funds received. This applies to all Financial Aid received, including loans.
Borrower's Responsibility
Federal Direct Loans (FDLs) are borrowed money that you must pay back with interest. Student borrowers must keep track of their loans and know all terms and conditions regarding repayment and deferment.
Know who your servicer is and notify them of any changes to your name, address, SSN, telephone number, and email address. Inform your servicer if your graduation date changes, you drop below half-time (six credit hours) enrollment, you transfer schools, or cease to be enrolled in a minimum of six (6) credit hours.
Participate in Exit Counseling as you graduate and any time you cease to be enrolled in a minimum of 6 credit hours, or withdraw to less than 6 credit hours.
Know the type and amount of loan fees that apply to your student loan disbursements.
Know when your repayment will begin and what your monthly repayment will be.
Be informed on repayment deferment, loan cancellation, repayment plans, and forbearance relief.
Prepare for repayment and login to your StudentAid.gov account and choose a repayment plan that works best for you. Always repay your loan whether or not you have completed your education, are satisfied with your education, or are able to find a job. Failure to repay your loan without proper authorization will result in defaulting on your loan.
---
Direct Loan Types
Subsidized Loan
The Federal government pays the interest on a Direct Subsidized Stafford Loan during in-school status and authorized deferment periods.
Unsubsidized Loan
The student is responsible for paying the interest on a Direct Unsubsidized Stafford Loan during all periods. Deferred interest will be capitalized upon entering repayment.
Parent Plus (Apply directly on the StudentAid.gov website)
For parents of dependent students to take out loans on their dependent student's behalf. If a dependent student and their parent are denied a PLUS loan, the student becomes eligible to receive up to the independent student amount of Unsubsidized loans. PLUS loans require the Parent borrower to complete a PLUS Master Promissory Note (MPN) on StudentAid.gov.
---
Direct Loan Interest Rates, Fees AND Limits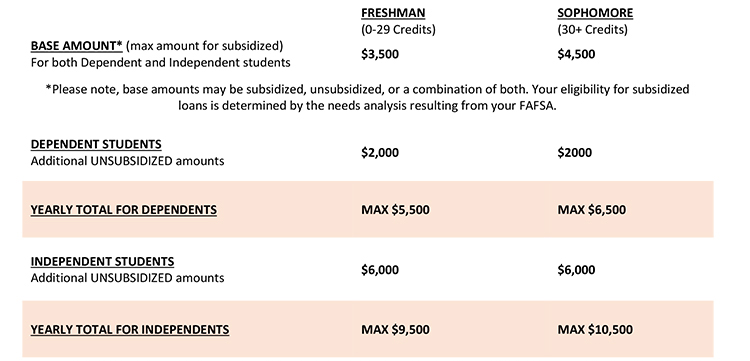 Ineligible for Federal Direct Student Loans
Please reach out to our Student Loan Specialist for available alternative loan options.
---
Student Responsibilities
Repayment
Financial Literacy
Avoid Default
---
Loan FAQs
When will I receive my loan funds?
It's after the initial disbursement date, why haven't I received my loan funds?
My Triton Portal says I am getting a refund, but I haven't received my student refund check?
---
Get Help with Entering Repayment
Beware of scams! You NEVER have to pay for help with your federal student aid.

Only work with the U.S. Department of Education, the office of Federal Student Aid, and our loan servicers, and never reveal your personal information or account password to anyone.

Triton College has partnered with the Educational Credit Management Corporation (ECMC). ECMC is a nonprofit company that provides support and sponsors programs to help schools and students lower default rates, promotes financial literacy, and resources to support student loan borrowers to successfully repay their loans.
Visit their website or contact them at (855) 810-4920 for assistance.
---
Student Code of Conduct
The Triton College Financial Aid Office has developed a Student Loan Code of Conduct to ensure the Student Loan Program at the college is administered in an honest, ethical and legal manner; and to comply with the requirements of the Higher Education Opportunity Act (HEOA) of 2008, signed into law on Aug. 14, 2008. All Triton College employees who are directly or indirectly involved with the administration of student loans, and officers and agents of the institution, adhere to these principles.
Triton College FDL Code of Conduct
---
Contacts
For general loan information:
Loan Support
708-456-0300, ext. 3155
loansupport@triton.edu
Current loan students/specific inquiries:
Cindy Perez
Student Loan Specialist
(708) 456-0300, Ext. 3045
cindyperez@triton.edu