AmeriCorps Seniors (RSVP)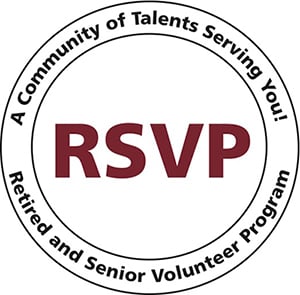 RSVP Celeberates 40 years at Triton College!
The AmeriCorps Seniors Retired and Senior Volunteer Program (RSVP) pairs adults aged 55 and older with organizations in the community for volunteer service. This grant-funded program through AmeriCorps Seniors has been sponsored by Triton College since 1983.
Funding for RSVP comes from AmeriCorps Seniors, the Illinois Department on Aging (IDOA), Leyden Township, and Triton College.
AmeriCorps Seniors volunteers who serve in the RSVP program choose how, where, and when they want to serve, with commitments ranging from a few hours to 40 hours per week. You can find an opportunity with any of the thousands of organizations we work with that see service as a solution to local, regional, and national challenges. AmeriCorps Seniors volunteers themselves report better health and longevity having served their community.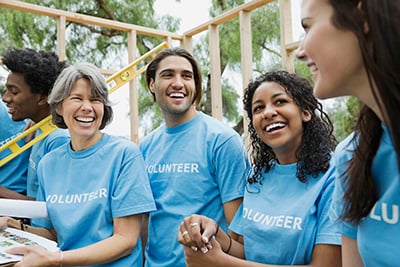 ---
Benefits and Reasons to Join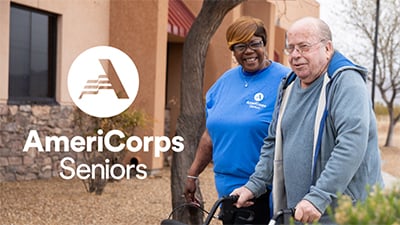 Volunteer Placement – RSVP works with you in finding a volunteer assignment to suit your interests, skills, or expertise
Membership – There is NO cost. As an enrolled RSVP volunteer, you are a national AmeriCorps Seniors organization member
Newsletter –A newsletter is sent to members and partners quarterly. It provides news regarding RSVP programs, activities, volunteer opportunities, and information about Triton College, and the community
Recognition Event – A recognition event is held annually to thank volunteers and volunteer stations for their dedication and commitment to service
Programs – Throughout the year, RSVP provides programs for life enrichment, learning, and social activities that allow volunteers to meet with one another and gain insight into topics affecting senior adults
Insurance – RSVP provides

supplemental

automobile liability insurance while on volunteer assignments
Reimbursement – RSVP can reimburse volunteers for transportation (mileage, bus, taxi, or train service) from home to their volunteer site and back. Reimbursement is NOT a payment or a stipend for your volunteering
---
Volunteer Requirements

Age 55 or older
Responsible and reliable
Desire to help others
Flexible schedule
Complete RSVP paperwork by deadlines provided (annual update form and submission of a monthly timesheet)
---
Examples of Volunteer Assignments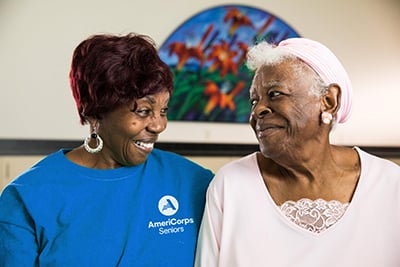 Advisory Council (RSVP)

Children's Activities
Computer/Data Entry/Internet
Conversation Tutor-ESL
Education
Food Pantry
Fund Raising/Grant Writing
Hospice/Respite
Library/Reading
Marketing
Office Aide/Clerical
Reception/Hospitality
SPOT Volunteer (Special Placement One Time)
Tax Counseling for the Elderly
Thrift/Gift/Resale Shops
Tutoring/Mentoring
Volunteer Recruitment
---
Enrollment Process
Complete a Volunteer Membership Application and send it to the RSVP office
Meet with the Volunteer Coordinator to discuss your interests and search current volunteer openings
Meet with staff at the volunteer station and discuss assignment*
Once everyone agrees to the assignment, the Volunteer Coordinator will notify the volunteer of a start date.
* = Some volunteer stations will require further paperwork and have their own onboarding process (such as a background check, drug test, and or training)
---
RSVP Newsletters
---
Volunteer Opportunities
To volunteer for an RSVP Program Event, click HERE.
---
When completed, return the document the RSVP Office by either...
Mail:
Triton College
2000 North Fifth Avenue
Room R-221
River Grove, IL 60171
Attn: RSVP
Fax:
(708) 583-3778
Email Attached Scanned Document:
rsvp@triton.edu
---
Time sheets are the way we keep track of the hours you serve.
This helps so that we can report to the state and federal government on the impact our volunteers are having in the community.
Specifically, the state bases our funding on the total amount of hours our volunteers serve—the more hours you serve, the more money we may receive.
NOTE: Time sheets are due to the office by the fifth of each month.
When completed, return the document the RSVP Office by either...
Mail:
Triton College
2000 North Fifth Avenue
Room R-221
River Grove, IL 60171
Attn: RSVP
Fax:
(708) 583-3778
Email Attached Scanned Document:
rsvp@triton.edu
---
Volunteer Station Partners
List of Current Volunteer Station Partners
Reasons for Being an RSVP Volunteer Station Partner
Requirements
RSVP Boundaries
Volunteer Position Descriptions
Volunteer Station Partners Request Application
(MOU) provides detailed provisions to ensure compliance with program regulations.
---
Links
---
Request to Volunteer
for an RSVP Program Event
---
RSVP Staff
Mario Porras
Director
(708) 456-0300, Ext. 3599
marioporras@triton.edu
Geraldine Lustro
Program Assistant
(708) 456-0300, Ext. 3896
geraldinelustro@triton.edu
Minerva McLaren
Volunteer Coordinator
(708) 456-0300, Ext. 3835
minervamclaren@triton.edu
Beth Sanfilippo
Program Assistant
(708) 456-0300, Ext. 3603
bethsanfilippo@triton.edu