Continuing Education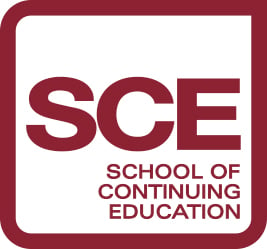 Welcome to the Triton College School of Continuing Education (SCE).
Due to precautions regarding COVID-19, Triton College campus is closed until further notice. Please visit the following link for updates: https://www.triton.edu/pages/coronavirus-info/.
We thank you for your interest in the School of Continuing Education (SCE). Our team is working remotely and responding to emails. You are welcome to reach us at askce@triton.edu.
Our mission is to value the individual while educating and serving the community. We are committed to providing high quality professional and personal continuing education opportunities for learners of all ages.
Whatever your need or ambition, we are confident you will find a program or course that is right for you. Our certificate programs, non-credit, and personal development programs are tailored to fit your life. One that fits into your schedule and, most importantly, advances your career and enriches your life.
We facilitate education and training resources for our partners in business and industry to enable these organizations to hire and retain workforce ready, skilled individuals who will make contributions to the organization and industry.
Since learning is a continuous process, at Triton College, we are here to be your partner in personal and professional learning success. Additionally, the SCE can deliver training and workforce development programs to help individuals from all world backgrounds find a career pathway and provide new vocation opportunities or re-tooling of existing skill sets.
Our programs include:
Professional Development Certificates
Center for Health Professionals
Personal Enrichment and Leisure
Real Estate Academy
Workforce Development
Center Business and Professional Development (CBPD)
Retired Senior Volunteer Program (RSVP)
Retirement Series for Future and Current Retirees
Just for Youth
Online Training and Certification (Non-Credit)
Our faculty and staff care about your success and are here to provide the highest level of support and attention to help you achieve your goals. We are committed to offering our students and constituents the latest and most innovative learning techniques that inspire excellence through engagement, transformation, and growth.
Please take a look at what the SCE has to offer and call us today.
Thank you,
Belkis Torres-Capeles, PhD
Dean, School of Continuing Education
---
School of Continuing Education Office
A Building, Room A-201(708) 456-0300 Ext. 3500Email: askce@triton.edu
---
Enroll in Continuing Education Classes
Continuing Education courses are a great way to learn a new skill or brush up on an existing one. Continue Education courses don't require the same enrollment steps as our tradition, credit classes. Enrolling in a CE course can be done by following these simple steps.
To get started, browse the current Continuing Education course schedule and find the class(es) that meet your interests and personal schedule. Take note of the meeting times, course and section number, and the cost for the course.
Once you have selected the course(s) that you wish to take, download the Continuing Education Registration Form below and fill out the required fields, which includes information about you as a student, and your desired courses.
SCE Registration Form (Online)
SCE Registration Form (Download)
Once you have completed your registration form, Submit your registration form to the Continuing Education office. Registration submission can be sent in a variety of ways
Register by Email: Send your completed registration form to: askCE@triton.edu
Register by Fax: Send your completed application form to: (708) 583-3114
Register by Phone: Call (708) 456-0300, Ext. 3500
Be prepared to give the representative the information from your form, then keep the form for your records.
Register by Mail: Mail registration and payment to:Triton CollegeContinuing Education Office2000 Fifth AvenueRiver Grove, IL 60171-1995
Register in Person: Come to the Continuing Education Office, Room A-201, on the main floor of the Learning Resource Center.
Note: Returning students cannot update their records by filling out a registration form. If you wish to update your personal information, such as address or phone number, please call the Continuing Education Office at (708) 456-0300, Ext. 3500.
---
Continuing Education Programs, Courses, & Services
Various courses, programs, and services are offered by the Continuing Education department. Classes are available in the following areas.
Professional Development Certificates
Center for Health Professionals
Personal Enrichment and Leisure
Online Learning
Real Estate Academy
Workforce Development
Just for Youth
Center Business and Professional Development (CBPD)
Retired Senior Volunteer Program (RSVP)
Lifelong Learners (50+)
Concealed Carry (CCW) Training
Retirement Series for Future and Current Retirees
Fitness
---
Become a Continuing Education Instructor
Triton College's Continuing Education Department is looking for you!
Do you have a hobby or skill in which you excel? Are you a natural leader? Have you ever wanted to try teaching? Would you like to earn extra income?
Teaching a non-credit class at Triton or one of our high school extension sites can be rewarding in so many ways. You can experience the enjoyment of helping others increase their knowledge and skill. You can meet people with similar interests. You can earn extra income by working in an area you enjoy. Because of the nature of non-credit classes, instructors are not required to have degrees as they must be able to demonstrate expertise in the subject area. Non-credit classes usually do not run for more than a few sessions and are short term assignments.
The Triton Continuing Education Department is looking for individuals with expertise and/or experience in many areas. While we are always adding new classes we are in current need of non-credit instructors for seminars in:
SCE Teaching Opportunities
If you would like to get more information on non-credit teaching or if you would like to discuss the possibility of offering a non-credit class, please email askce@triton.edu.
Propose a Course or Become an Instructor
---
Extension Sites
Elmwood Park High School
East Leyden High School
West Leyden High School
Oak Park and River Forest High School
Proviso East High School
Proviso West High Shool
Ridgewood High School
Riverside/Brookfield High School
---
Continuing Education Team

Office of the Dean
Center for Business and Professional Development
Center for Health Care Professionals
Continuing and Community Education
Retired and Senior Volunteer Program (RSVP)