2018 Outstanding Faculty of the Year
Quality Faculty and Staff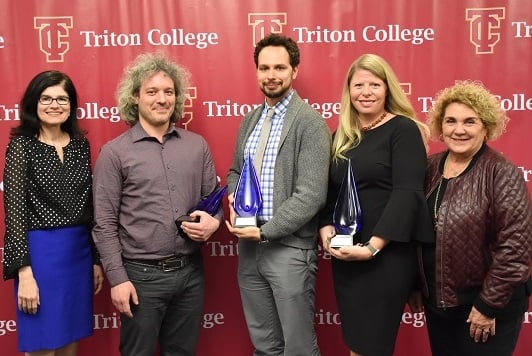 Congratulations to Triton College's 2018 Outstanding Faculty of the Year honorees – Joseph Klein, Daniele Manni and Gretchen Reyes.
Klein and Manni are this year's full-time Faculty of the Year honorees, Reyes is the adjunct Faculty of the Year honoree.
Klein has taught rhetoric classes as a member of the English Department since 2015. Outside the classroom, Klein holds extracurricular workshops to assist students in writing scholarship and transfer admission essays, and chairs Triton's Low Cost/No Cost Textbook Alternatives Committee.
Manni has taught philosophy and ethics classes at Triton for six years. He is also the founder and coach of Triton's Ethics Bowl Team, participating in competitions against teams from other colleges.
Reyes has taught a variety of classes as an adjunct faculty member of Triton's School of Business for five years. She is a Triton graduate herself, which she says helps her connect and build relationships with current students.
Reyes recently spearheaded the creation of a transfer agreement program for business students between Triton and Elmhurst colleges.