Emily Jo Anderson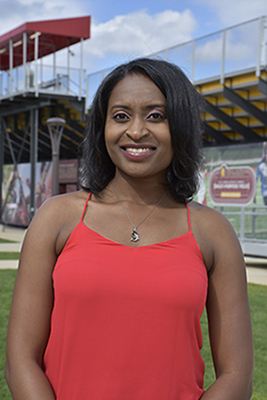 Emily Jo Anderson is the athletic academic coordinator at Triton College. A Triton and Concordia University alum, she was previously an athletic event worker, assistant women's basketball coach and Athletics Program assistant.
During the 2019-2020 school year, 38 Triton student-athletes earned National Junior College Athletic Association (NJCAA) All-Academic honors, doubling the total from the previous year. Triton, in its final year as a member of the North Central Community College Conference (N4C), led the league with the most NJCAA All-Academic student-athletes.
Harry McGinnis, athletic director, attributed the academic success to the head coaches and Anderson for emphasizing the importance of academic excellence. Students must achieve an overall grade-point average (GPA) of 3.60 or higher to achieve NJCAA All-Academic Team honors.
Anderson said the academic guidance she gives Triton student-athletes are based on some key tenets, including accountability and ownership, communication and support.
"I'm a huge advocate for taking ownership of yourself, and I make it a point to hold myself and our students accountable for their words, actions and reactions to life events," Anderson said. "I make every effort to communicate with the students early and often."
Anderson said she informs students about financial aid opportunities, such as grants, and also keeps them informed about the availability of student services such as tutoring, peer mentoring and study groups. She also reminds the student-athletes about important deadlines and keeps them updated on the status of academic progress reports.
Anderson credited her colleagues and McGinnis for working together as a team to support the student-athletes in making strides in the classroom and their respective sports.
"The support I receive is crucial in driving home the age-old message of 'work hard, play hard,'" she said.