Jennifer Davidson awarded AAUA Fellowship
Triton College Dean Awarded Prestigious Higher Education Administrator Fellowship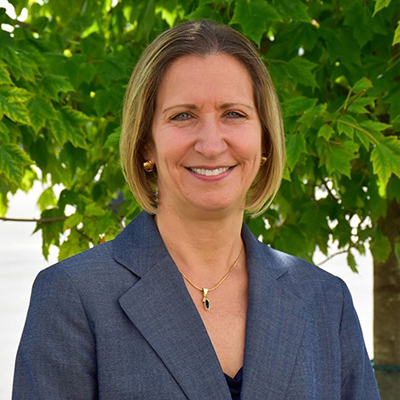 Jennifer Davidson, Ph.D., dean of Business and Technology, was named a 2020-21 professional development fellow by the American Association of University Administrators (AAUA). The AAUA Professional Development Fellowship program is designed for practicing college or university administrators who want to remain on the job at their present position while honing their leadership skills under the direction of a locally based mentor and a senior AAUA mentor.
During the 2020-21 academic year, Davidson will work on a leadership development project with guidance and support from her local mentor, Susan Campos, Ph.D., vice president of Academic Affairs at Triton College. Joe Bertolino, Ph.D., president of Southern Connecticut State University, is the AAUA senior mentor assigned to assist Davidson.
"It is a privilege to be named an AAUA fellow," said Davidson. "This fellowship provides me an excellent opportunity to grow as a higher education leader. I look forward to enhancing my administrative competence through the guidance and support of both Dr. Campos and Dr. Bertolino, as they are both accomplished in their respective positions."
Davidson began her career as a teacher in the Illinois public school system and soon thereafter moved into administrative roles in higher education. Prior to joining the Triton College administration in 2019, Davidson distinguished herself through a series of increasingly responsible assignments at Governors State University, Moraine Valley Community College, North Central College and the University of St. Francis.
"The AAUA Fellowship Selection Committee found that Dean Davidson possesses a unique combination of strong technical skills and the ability to establish and maintain cooperative and effective working relationships with colleagues. This is precisely the candidate characteristics we seek when making fellowship selections," said Dan King, Ed.D., president and chief executive officer of AAUA.
With her selection as a 2020-21 AAUA fellow, Jennifer Davidson joins a small and very select group of fellows that are predicted to be among tomorrow's leaders in American higher education.
AAUA is a professional association of administrators at all levels (department chair/unit head through president) at all types of American higher education institutions (two- and four-year; public, private non-profit, private for-profit). The association provides a variety of professional development services for its members and members of the American higher education community.