Activity Director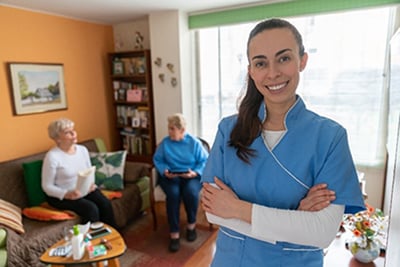 AHL-E40 Activity Director
The 36 Hour Activity Director course will provide the student with an overall understanding of the basic duties and responsibilities of being an activity director/special care unit coordinator. It will provide participants with practical training skills to be able to lead an effective team and provide person-centered care. This class fulfills the 36-hour requirement to practice as an activity director in the state of Illinois. In addition, it will provide documented coursework in dementia care and ability-centered care as required for the state certified special care dementia unit coordinator.
Career Outlook
According to the Bureau of Labor Statistics (BLS), employment in the activity director field is expected to grow 10 percent from 2020-2030, which is average for all occupations. About 1,900 openings for activity directors/special care unit coordinators are projected each year, on average, over the decade. Many of those openings are expected to result from the need to replace workers who transfer to different occupations or exit the labor force, such as to retire.
Median annual wage of activity directors/special care unit coordinators was $47,710 in May 2020.
Educational Requirements
High school diploma or equivalent.
Fall 2022
AHL E40 101
September 20 to October 27, 2022
Tuesdays and Thursdays
9 a.m. – 12:00 p.m.
Online
Tuition: $345*
* = Additional college registration and technology fees may apply.
For more information, please call (708) 456-0300, Ext. 3500, or email us.