RN Re-entry Update Course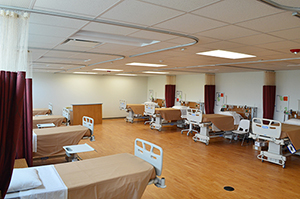 RN Re-Entry Update (NRS-E88)
Program Details
Triton College offers a 12-week RN Re-entry program for RNs who have not actively practiced in recent years and wish to return to clinical practice. Participants may also use this course to aide in preparation to sit for the NCLEX or review and enhance their skills. The program will be held on campus in our state of the art nursing lab where students can gain hands on training.
Physical tasks include; continuous standing and walking; lifting 10-100 lbs. frequently and over 101 lbs. occasionally; carrying 10 -20 lbs. occasionally, pushing and pulling up to 101 lbs.
What our students said about the program:
Overall, I would give a high evaluation for this program: I certainly was challenged, learned a lot and felt supported in the process.
A lot of thoughtful consideration went into this course. Everything was planned and coordinated.
The clinical experience was very good. I felt I could start work in a hospital after the clinical experience.
For me, this course was very helpful and I will recommend it to everybody who wants to get back into the nursing field.
The online theory is convenient because I could study in my own home.
The clinical skills lab enhanced my confidence in going back to work in a hospital.
The hospital clinical was also very helpful; my preceptors were very nice and good speakers.
I loved the flexibility of the online portion and the materials are great.
I feel this course offers everything needed to successfully re-enter into nursing.
Skills lab was a nice overview/review.
Hospital experiences were excellent.
Overall, I found the organization of the course to be an excellent review of nursing practice - both online course work and clinical skills lab and hospital.
Fall 2023
TO BE ANNOUNCED
NOTE: Beginning Fall 2023, course will change into a Next Generation National Council Licensure Examination (Next Gen NCLEX) exam preparation class. Details soon to follow.