Dental Assistant
Register for
Information Session
Continuing Education Registration Form
HTH E31 - Dental Assisting Program
Dental assistants provide quality preventative and corrective dental care under direct supervision of the dentist or dental hygienist. The dental assistant is responsible for assisting dentists and dental hygienists with patient care as well as providing certain administrative support to the office. Dental assistants work in a variety of health care settings including dentist offices, hospitals and other similar facilities. With the national increase in health care related services and the national shortage of health care professionals, the need for dental assistants is growing substantially. The 60-hour Dental Assisting Program prepares students for entry-level positions in one of the fastest growing health care positions – dental assisting. The purpose of this course is to familiarize the student with all areas of pre-clinical dental assisting and provide training in the professional skills required to function as an assistant in the dental practice.
Career Outlook
According to the Bureau of Labor Statistics (BLS), employment in the dental field is expected to grow 7 percent from 2019-2029, which is faster than the average for all occupations. Ongoing research linking oral health and general health will likely continue to increase the demand for preventive dental services. Additional reasons for expansion include the population growth, greater retention of natural teeth by middle-aged and older people, and an increased focus on preventative dental care for younger generations will fuel demand for dental services.

Salaries vary depending on experience, hours, and location. Median annual wage of dental assistants was $40,080 in May 2019.
Educational Requirements
Most employers prefer that dental assistants and aides have a high school diploma or equivalent. There are state and national examinations that test the competency of dental assistants and can lead to a certification. This course is ideal for students interested in pursuing a dental hygienist program.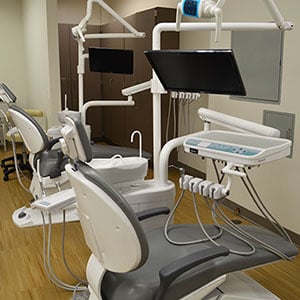 Key areas and topics include:
Administrative Aspects
The History of Dentistry and Dental Assisting
Introduction to the Dental Office
The Legal Aspects of Dentistry and Dental Assisting
Policies and Guidelines
Clinical Aspects
Introduction to Oral Anatomy
Dental Operatory
Dental Equipment, Operation and Maintenance
Introduction to Tooth Structure
Primary and Permanent Teeth
The Oral Cavity and Related Structures
Proper Patient Positioning
Dental Hand-Pieces
Dental Anesthesia
Sterilization
Maintaining Sterility and Asepsis and Other Areas
Fall 2023
HTH E31 201
September 12 to November 21, 2023
Tuesdays and Thursdays
6 p.m. - 9 p.m.
H Building, Room H-126

In the event we are unable to meet in person, labs will be held virtually and led by your instructor.

Tuition: $1,199* (Textbooks not included)
* = Additional college registration and technology fees may apply.
For more information, please call (708) 456-0300, Ext. 3500, or email us.