Hospitality Industry Administration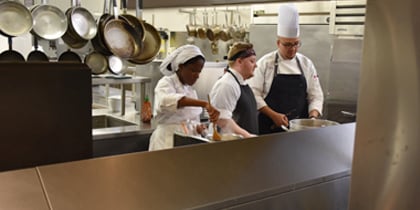 Triton's Hospitality Industry Administration (HIA) Program is recognized throughout the industry as a high quality training option for people pursuing a career in the fields of culinary arts, baking and pastry, restaurant, and hotel management.
Students enrolled in the program gain real-world experience working in Triton's student managed and operated dining room and retail bake shop. In addition to basic food preparation and service techniques, students also learn the fundamentals of the food service and hospitality industries daily operations. Students who choose Triton's Hospitality Industry Administration Program can select from concentrations in Culinary Arts, Hotel/Motel Management, Restaurant Management, and Bakery and Pastry.
The hospitality industry is the number 2 employer in the United States and career opportunities are forecasted for continued growth.
Degrees
Certificates
Courses
---
Student Job Opportunities
---
Additional Resources
Visit Campus Dining and/or restaurants for more information and events.
---
Contact Information
Chef Manuel Uribe Espin
Program Coordinator
Office: B-226
(708) 456-0300, Ext. 3624
manueluribeespin@triton.edu
Chef Christopher Clem
Full-Time Faculty
(708) 456-0300, Ext. 3625
christopherclem@triton.edu
Chef Denise Smith-Gaborit
Full-Time Faculty
(708) 456-0300, Ext. 3869
denisesmithgaborit@triton.edu
Jasmine Bilbao-Romero
Adjunct Faculty
jasminebilbao-romero@triton.edu
Ernest Davis
Adjunct Faculty
ernestdavis@triton.edu
Marisol Gutierrez
Adjunct Faculty
marisolgutierrez@triton.edu

Josue Mancero
Adjunct Faculty
josuemancero@triton.edu

Amela Musanovic
Adjunct Faculty
amelamusanovic@triton.edu
Jennifer Smith
Adjunct Faculty
jennifersmith@triton.edu
Loretha Smith
Adjunct Faculty
lorethasmith@triton.edu