Renewable Energy Technology
New Renewable Energy Technology
Certificate/Degree Programs
Launched Fall 2020
Triton College now offers two Renewable Energy Technology programs.
The Certificate is 30 credit hours and can be completed in just one year.
The Associate in Applied Science Degree is 60 credit hours and after completing the certificate it takes just one additional year to complete.
Programs are designed to meet the demands for skilled renewable energy technicians. Emphasis is on basic techniques and skills necessary for entry-level employment in the alternative energy industry as solar technicians or in companies dealing with wind, energy auditing and weatherization. Courses emphasize renewable energy technologies, electricity and magnetism, electrical safety and controls. Students will also acquire proficiency in photovoltaics, effective communication and career skills.
Employment of solar photovoltaic (PV) installers is projected to grow 63 percent from 2018 to 2028, much faster than the average for all occupations. The continued expansion and adoption of solar panel installations will result in excellent job opportunities for qualified individuals, particularly those who complete photovoltaic training courses at a community college or technical school.
https://www.bls.gov/ooh/construction-and-extraction/solar-photovoltaic-installers.htm
Employment of wind turbine service technicians is projected to grow 57 percent from 2018 to 2028, much faster than the average for all occupations. Because wind electricity generation is expected to grow rapidly over the coming decade, additional technicians will be needed to install and maintain new turbines. Job prospects are expected to be excellent.
https://www.bls.gov/ooh/installation-maintenance-and-repair/wind-turbine-technicians.htm
---
Degrees
Certificates
---
Significant scholarship opportunities will be available through the Illinois IBEW Renewable Energy Fund (REF).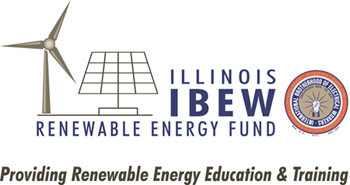 ---
Contact Information
Frances Figg
Program Coordinator
(708) 456-0300, Ext. 3129
francesfigg@triton.edu