College Readiness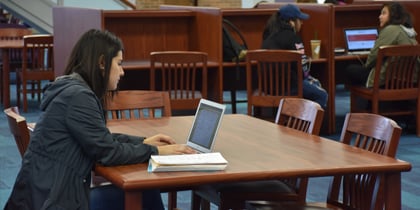 The Department of College Readiness at Triton College helps students achieve academic success by developing or enhancing basic skill proficiencies in the areas of reading, writing, and mathematics.
Placement into the courses in this department are determined by placement test or other test scores (such as ACT, SAT, etc.). Scores determine a student's level of college readiness and indicates if additional preparation is needed in order to be successful in college-level courses.
It's important that students enroll in the appropriate course(s) before beginning college-level coursework.
Check the Testing Center page to get the most current scores for admittance into college-level or college readiness coursework.
---
---
COL 102 - Embracing the College Experience
COL 102 is the Embracing the College Experience course. It is geared towards first semester college students to assist them with adjusting to college and is designed to enhance some of their soft skills - otherwise known as non-cognitive skills (such as time management, motivation, goal setting, and teamwork). These are the skills that are not typically measured by standardized tests nor typically taught in a traditional setting. COL 102 can help you build up your skills and confidence in these areas, while supporting and increasing your success in your other courses (understanding the syllabus, test taking, note taking, study skills).
---
COL 102 - FAQs
What are the benefits to COL102?
Do I have to take COL102?
Can I take this class even if I am not identified?
What is Triton's policy on mandatory enrollment in COL 102?
When did the new policy become effective?
How do I know if I need to enroll in COL 102?
Can I register for COL102 even if I am not required to?
How does the placement in COL 102 impact my success at Triton?
Does this class count toward my degree?
Does this course transfer?
Will I need to retake COL102 if I have passed it but put on academic probation again?
---
Placement Review Resources
The ACCUPLACER Placement Test review materials listed below includes information about key concepts contained in the ACCUPLACER Reading, Writing and Math tests. After you complete a review of the concepts you can take a practice test and get feedback about your testing knowledge.
Remember, the ACCUPLACER placement test is designed to determine your skill level for college-level reading, writing and math. Taking the test doesn't mean that you've 'passed' reading, writing, or math, but your score indicates you can enroll in certain Triton courses. The score you receive will help determine which courses you should take so it's important for you to take the test seriously.
After you've completed the test your counselor can help you make appropriate course selections.
Need more information about the placement test? Find out more at Placement Testing or call (708) 456-0300, Ext. 3252.
Placement Test Math Review Sessions
Brush up on your skills before taking the ACCUPLACER math placement test and potentially save time and money during your academic journey at Triton College! This FREE session lasts about five hours and you may stay for the entire session or any part of it. No advance registration is necessary.
First hour will focus on basic mathematics
Second hour will focus on elementary algebra
Third hour will focus on geometry
Fourth hour will focus on intermediate algebra
Fifth hour will focus on word problems
Saturday review sessions will be held from 9:00am - 2:00pm and will be held remotely. In order to attend the free review session, students can click the link given below or email Serpil Caputlu at serpilcaputlu@triton.edu at least one day before the review session to receive info about how to attend.
Placement Test Review sessions are scheduled on the following dates:
Dates will be posted soon
Here is the link to join the Placement Test Review sessions:
https://us04web.zoom.us/j/79589695381
Meeting ID: 795 8969 5381
Passcode: Caputlu
Several other ways are available to help you review for the placement test.
View diagram of Math Course Pathways.
If you have any questions regarding this review session, please feel free to contact:
Serpil Caputlu
College Readiness Mathematics Instructor
Email: serpilcaputlu@triton.edu
Office: Building A, Room: A-105D
Office Phone: (708) 456-0300, Ext. 3813
---
Resources for Students
The College Readiness Courses:
A college readiness course is a college class numbered 045 - 098 that prepares you for college-level study but does not award credit toward your degree. Courses include:
MAT 045: BASIC MATH & PRE-ALGEBRA
MAT 055: ALGEBRA I & GEOMETRY
MAT 080: GENERAL EDUCATION PREPARATION MATH
MAT 085: ALGEBRA II
MAT 096: ALGEBRA I & II
RHT 085: INTRODUCTION TO COLLEGE READING I
RHT 086: INTRODUCTION TO COLLEGE READING II
RHT 095: INTRODUCTION TO COLLEGE WRITING I
RHT 096: INTRODUCTION TO COLLEGE WRITING II
---
Contact Information
College Readiness - English Faculty
College Readiness - Math Faculty