Visual, Performing and Communication Arts Department
Visual Arts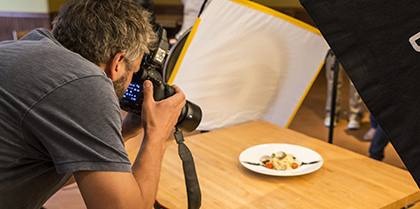 In these classes, students may develop skills in traditional art forms such as painting, drawing, and ceramics. In our Visual Communication area, students also use new media art forms that incorporate the use of computer and digital technology. Art appreciation and art history courses enrich students' understanding of all the visual arts and the ways in which artists explore and communicate the depths of human experience within their chosen medium. The Art Gallery in the Fine Arts Building hosts numerous shows throughout the year and is an important part of our educational programming for our art students.
Degrees
Certificates
Courses
---
Performing Arts
Areas include Music, Theater, and Dance.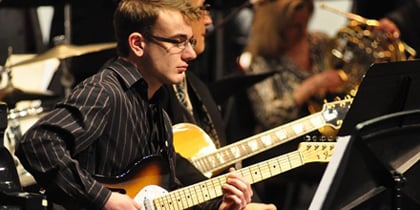 In Music, applied lessons in a variety of instruments and in voice are taught by highly qualified musicians. In addition to private instruction, students may develop performance skills by participating in Concert Band, Choir, and Jazz Ensembles. Foundation courses for musicians such as Music Theory, Sight-Singing and Ear-Training are offered as are courses in Music Technology. Many of theses classes are taught in our Music Laboratory, where student learning is enhanced through the use of computer technology. Every semester, several classes in music appreciation and music history are offered as well. These courses are available both on campus as well as online.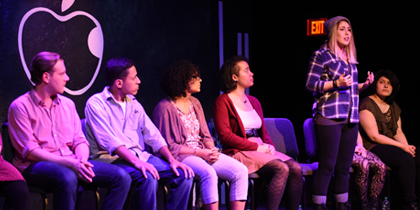 The Theater area offers a wide array of courses and programming. Classes that teach students to appreciate and understand theater as an art form are enjoyed by many students every semester. In addition, several classes in acting are offered in which students learn basic techniques of characterization, script analysis, auditioning and other skills crucial to the beginning actor. The Theater area also produces a four-production season each year. Classics, comedies, serious dramas as well as musicals are included in our programming. There is something for everyone to enjoy, and at affordable prices. Plays are presented in the intimate studio space in the Fine Arts building (Cox Auditorium) and musicals are produced in the larger Performing Arts Center in the Robert Collins Center building on the east side of campus.
The Performing Arts area also includes courses in Dance Appreciation.
Degrees
Courses
Music Program
Triton College's Music Program is designed to offer all freshman and sophomore-level coursework for the Bachelor of Music or Music Education degree for students planning to pursue this degree at a four-year institution.
Music study at Triton College prepares students for careers in education, performance, or music technology. The variety of courses offered, state-of-the art facilities, and renowned faculty offer a rewarding yet affordable music education.
Adjunct Faculty
---
Communication Arts
This area of the Fine Arts department includes Speech Communication and Mass Communication.
In Speech classes, students learn how to effectively communicate ideas and feelings through the spoken word. As a core component within our General Education curriculum, most students who pursue a degree at Triton College will enroll in one of our Principles of Effective Speaking classes. Some students may wish to take our Advanced Public Speaking class or Introduction to Performance Studies class as well. Additional course offerings include Interpersonal Communication, Intercultural Communication, Small Group Communication and Gender and Communication.
Degrees
Courses
---
Mass Communication
Students explore human communication in its many mediated forms, including radio, television, film, print, the internet, and even hip-hop music! Our Film History and Appreciation courses are especially popular with students.
Degrees
Courses
---
Contact Information