Mathematics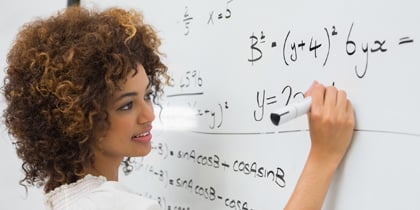 Mission
"The mission of the Triton College Mathematics Department is to provide excellent mathematics education to a diverse student population at Triton College. To achieve this goal, the department will provide students quality instructors and an environment conducive to learning. Instruction is intended to prepare students for college level work, as needed, and to provide coursework which will meet the needs of career preparation, the statewide requirements of General Education, and the first two years of a baccalaureate mathematics curriculum."
---
Degrees and Courses
Degrees
College Readiness Mathematics Courses
Mathematics Courses
---
College Readiness
Triton College helps students achieve academic success by developing or enhancing basic skill proficiencies in mathematics through our College Readiness Courses.
Triton College partnered with district high schools to offer Transitional Math to their students. Faculty from the high schools and the college collaborated to develop and offer three transitional math courses: Technical Math, Quantitative Literacy and Statistics, and STEM. Students must qualify, and a passing grade can be used to bypass Triton's math placement test, which guarantees the student placement into a variety of credit level math courses at Triton College, saving them time and money.
---
Contact Information
Faculty and Staff