Mathematics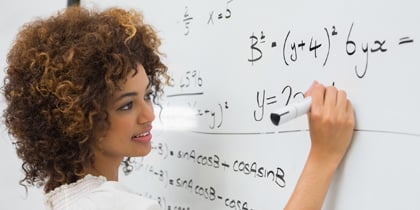 Welcome to the Triton College Mathematics Department Web site! This department consists of credit level mathematics courses at Triton College, which is Mat 101 and above. Any courses below the 100-level reside in the College Readiness Department.
Mission
"The mission of the Triton College Mathematics Department is to provide excellent mathematics education to a diverse student population at Triton College. To achieve this goal, the department will provide students quality instructors and an environment conducive to learning. Instruction is intended to prepare students for college level work, as needed, and to provide coursework which will meet the needs of career preparation, the statewide requirements of General Education, and the first two years of a baccalaureate mathematics curriculum."
---
Why Study Mathematics?
"Mathematics touches upon so many topics and segments of our daily lives. By studying math, you can gain a unique perspective on our ever-changing world and discover that you may already know more about math than you think." Glenn Jablonski
"Math has allowed humanity to advance technologically. Math is all around us. Even if you don't use specific formulas from your math class in your career, learning math will make you a better person because you will be able to think more logically." Christyn Senese
"Mathematics is in every nook and cranny of our daily lives. Studying math will make you better at teaching, programming, shopping, banking, home accounting, and so much more. Studying math will keep you aware of changes in our universe. Indeed, studying mathematics is the beat of the human heart." Tuan Dean
"Studying mathematics develops analytical skills and the ability to work in a problem solving environment." Ansamma Antony
---
Courses
Please note: Math courses below the 100-level (065, 085) reside in the College Readiness Department. If you have any questions or concerns regarding those courses, please contact the College Readiness Department.
Online Mathematical Courses
The Triton College Math Department offers many credit-level math courses in an online format. Here is some important information about our online classes:
MyMathLab/MyStatLab. All of our credit level online classes utilize Pearson's MyMathLab or MyStatLab. This gives students the lower-cost option of purchasing an access code rather than a traditional textbook. Having the code gives students full access to the course materials, including a digital version of the textbook.
Communication. Communication between student and instructor is one key to success in an online course. Students will likely be communicating directly with their instructors via email. All communication will go to your Triton Email.
Deadlines. Our online math courses are all deadline driven. They allow students to work at their own pace, and even work ahead, but within the construct of strict timelines. This is not an independent study format where students simply have to complete everything by the end of the semester.
If you have any questions about whether to take an online math class, we have several experienced online math instructors. Contact your instructor with questions.
---
How To Succeed In Mathematics
"Succeeding in Math requires time and effort. This starts with going to every class and continuing to work outside of the classroom. make use of the resources available to you; this includes your instructor and your classmates." Glenn Jablonski
"Practice makes perfect. Math is a challenging subject that requires dedication, determination and effort. If you strive to do your best, you can do it." Christyn Senese
"Mathematics is something we interact with rather than reading it. Therefore, we ask pertinent questions, seek out solutions seasonably and process the education of math while using math regularly." Tuan Dean
"Math is like a sport. As with a sport, you need to practice math by doing the homework." Ansamma Antony
"Be a perfectionist. always check problems on a test twice." William McKenzie
---
Tutoring
Triton's main source for help in math is the Academic Success Center. We highly recommend spending at least two hours a week in the tutoring center. The Math Zone, located in A-112, also has computers where you may work on MyMathLab or Aleks. The link gives the hours and location.
If you are a current student, your professor may have office hours, either in his/her office or in his/her classroom. Take advantage of those open times to get help. We are here to serve you.
---
College Readiness
The Department of College Readiness at Triton College helps students achieve academic success by developing or enhancing basic skill proficiencies in the areas of reading, writing, and mathematics.
Triton College partnered with district high schools to offer Transitional Math to their students. Faculty from the high schools and the college collaborated to develop and offer three transitional math courses: Technical Math, Quantitative Literacy and Statistics, and STEM. Students must qualify, and a passing grade can be used to bypass Triton's math placement test, which guarantees the student placement into a variety of credit level math courses at Triton College, saving them time and money.
---
Contact Information
If you have questions about admissions to credit mathematics classes (101 and above), changes, or complaints, please contact the Department Chair.
Faculty and Staff
Adjunct Faculty