Pipeline for the Advancement of the Healthcare Workforce (P.A.T.H.)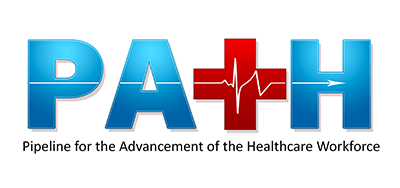 PATH is a grant designed to create, support, and expand the opportunities of individuals in the nursing pathway and select healthcare pathways to obtain credentials and degrees that allow them to enter and/or advance their careers in the healthcare industry. Additionally, this grant aims to address the shortage of workers in the healthcare industry that have been exasperated by the COVID 19 pandemic.
The primary goal of this grant is educational program completion, which is defined as a student who completes a PATH-eligible program within the Academic Year, culminating in a credential.
PATH provides financial support for eligible students enrolling in eligible healthcare programs. In addition to financial support, the college provides supportive services including:
academic advising and tutoring
development of student success strategies
employability skills training
job placement assistance
other services to address identified barriers to completion
---
Selected Healthcare Programs
Registered Behavior Technician
Sterile Processing Technician*
* represents credit programs
---
COVID-19 Information
It is very important to frequently check the Triton COVID-19 web page for updates so that you are aware of information and safety protocols when coming to campus.
For more information about Triton's COVID-19 information, please Click HERE.
---
Information Sessions
Please register for a virtual information session to learn more about the PATH grant, the different certificate programs we offer, and the PATH participant requirements. After you register, you will be sent an email with the Zoom link to join the virtual session. We hope to see you there!
PATH Information Session Registration
---
FAFSA Information

Please click on the FAFSA link only after you have been instructed to do so by a PATH representative. There will be assistance available for those who require it when completing.
---
Campus Resources

---
Contact Information
Completion and Transition Specialist - PATH Grant
Office: H-243
Phone: 708-456-0300, ext. 3088
Email: path@triton.edu