Surgical Technology
The Triton College Surgical Technology Program prepares the student to work as part of a team providing surgical patient care. Surgical technologists most often function in the scrub role, but their responsibilities may include a variety of duties before, during and after surgery. The program includes theory, simulation laboratory, and clinical components. Students receive supervised experience at several cooperating area hospitals. A variety of employment opportunities exist in hospitals, surgical centers, birthing centers and other health care agencies. The U.S. Bureau of Labor Statistics projects that the need for surgical technologists will increase by approximately 9 percent between now and 2030.
Accreditation Status: The Surgical Technology Program is accredited by the Commission on Accreditation of Allied Health Education Programs (CAAHEP), 9355 - 113th St. N, #7709, Seminole, FL 33775, (727)210-2350, in cooperation with the Accreditation Review Council on Education in Surgical Technology and Surgical Assisting (ARC/STSA), 19751 E. Mainstreet, Suite 339, Parker, CO 80138, (303)694-9262. Graduates qualify to apply to the National Board of Surgical Technology and Surgical Assisting for eligibility to sit for the Certified Surgical Technologist examination.


---
Prospective Student Information
Thank you for your interest in the Triton College Surgical Technology Program!
Additional information concerning the surgical technology profession is available on the Association of Surgical Technologists' web site at www.ast.org
Also, please plan to attend one of the upcoming information sessions.
Feel free to contact me if any further assistance is needed.
Thank you,
Gail Hoffman
Complete the MANDATORY application for Triton College.
In addition to fulfilling the selective admission health program requirements, candidates must complete the following general admission requirements: complete a Triton College application, submit applicable transcripts, take placement exams or demonstrate course equivalency, and complete new student orientation.
Complete the MANDATORY Selective Admission Application for Health Careers
Note: Applicants should not apply to the Surgical Technology Program until they have successfully completed the requirements for the program. Acceptance is awarded every fall semester.
Attendance at an information session is REQUIRED. For information session dates, times, and locations, please register through our form below.
Surgical Technology Degree Information Session Registration
Additional Information:
---
Current Student Information
Congratulations on being accepted into the Triton College Surgical Technology Program!
The information provided below and in the Surgical Technology Program Handbook will be useful as you prepare to start the program. Please read each item carefully to ensure that all deadlines are met. Failure to take the appropriate action within the specified time frame will result in forfeiture of your seat.
Please let me know if any questions arise. I am happy to assist you.
Thank you,
Gail Hoffman
Additional Information:
---
Outcomes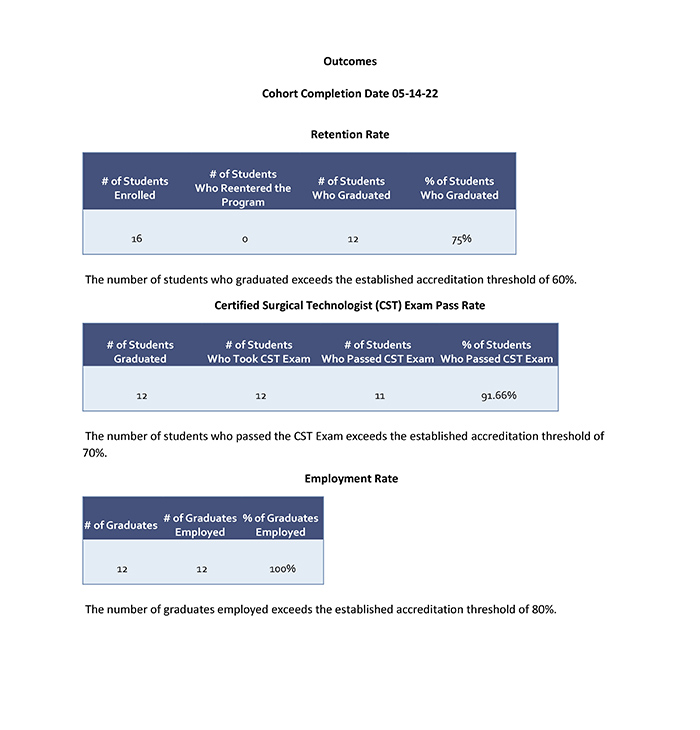 ---
Department Information
Degrees
Courses
---
Contact Information
Gail Hoffman, MS Ed, BA, CST
Surgical Technology, Chairperson
Office: H-228
(708) 456-0300, Ext. 3921
gailhoffman@triton.edu
Tiffany Irby
Health Careers Retention Specialist
Office: H-133
708-456-0300, Ext. 3982
tiffanyirby@triton.edu
Christopha Cox
Health Careers Information Specialist
Office: H-134
708-456-0300, Ext. 3474
christophacox@triton.edu
Advising Department
Academic Advisors