Certified Medical Assistant
A Medical Assistant is a multi-skilled allied health care professional trained to perform clinical and administrative tasks in an outpatient setting under the supervision of a licensed health care provider. Medical Assistants assist physicians in the diagnosis and treatment of patients and perform other tasks to meet patient needs and to manage clinic operations.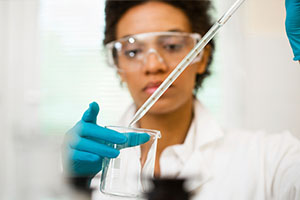 As an important member of the health care team, the duties of medical assistants vary according to a clinic's location, size, and specialty. Medical Assistants record patient histories, measure vital signs and physical dimensions, prepare for and assist with examination and treatment procedures, collect and test laboratory specimens, provide patient education, prepare and administer medications and perform diagnostic tests. Administrative responsibilities may include reception and telephone management, scheduling appointments, maintaining medical records, preparing financial records, preparing insurance claims and related operational tasks.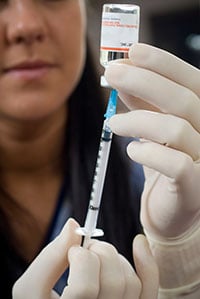 Medical assisting is a health career field that offers a number of benefits including speed of entry, career variety, prestige, and personal satisfaction. The U.S. Bureau of Labor Statistics has consistently indicated that the employment of medical assistants is projected to grow much faster than average for all occupations. The Illinois Department of Employment Security indicates that the average number of job openings through 2028 is projected to be 2,848 per year in Illinois and 1,220 per year in the Chicago area (Cook County). The median full-time compensation for Medical Assistants is approximately $20/hour or $40,000/year.
Complete the MANDATORY application for Triton College.
In addition to fulfilling the selective admission health program requirements, candidates must complete the following general admission requirements: complete a Triton College application, submit applicable transcripts, take placement exams or demonstrate course equivalency, and complete new student orientation.
Complete the MANDATORY Selective Admission Application for Health Careers
Certificates
Courses
---
Information Sessions
Please click HERE for non-interactive video version.
No sessions scheduled at this time
Attendance at an information session is ENCOURAGED in order to apply for admission to this program. By attending an information session, you will learn what is expected of you as an applicant, as well as the functionality of the program. For information on information session dates, times and locations, please contact (708) 456-0300 Ext. 3474 or register through the form below.
Certified Medical Assistant Certificate Information Session Registration
---
Additional Information
---
Programmatic Accreditation
The Certified Medical Assistant (CMA) Program at Triton College is accredited by the Commission on Accreditation of Allied Health Education Programs upon the recommendation of the Medical Assistant Education Review Board (MAERB).
---
Reportable Program Outcomes
Retention Job Placement Exam Passage
2021 93% 69% 86%
2020 84% 62% 73%
---
Contact Information


John P. Cody, PhD, MPH, MBA, CMA
Program Chairperson
Office: H-234
(708) 456-0300, Ext. 3932
johncody@triton.edu