Sterile Processing Technician
Sterile Processing Technician Certificate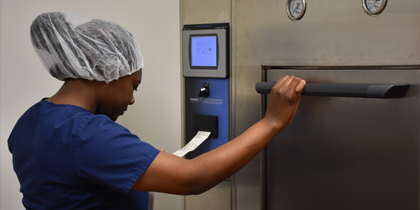 This program prepares the student to work in the sterile processing department (also known as the central supply or central processing distribution department) of a hospital or medical facility. Sterile processing technicians (also known as medical Equipment preparers or instrument technicians) provide support to patient care services within a healthcare facility. Responsibilities include cleaning, decontaminating, inspecting, assembling, packaging, sterilizing, storing and distributing medical devices needed to provide patient care, especially for patients undergoing surgical procedures.
Employment opportunities exist in healthcare facilities such as hospitals, surgical centers and birth centers. The U.S. Bureau of Labor Statistics projects that the need for sterile processing technicians will increase by approximately 14.5% between now and 2024.
The program includes theory, lab and experiential learning components. Students receive supervised clinical experience at several cooperating area healthcare facilities.
Graduates qualify to apply to the HCSPA (Healthcare Sterile Processing Association) for eligibility to sit for the Certified Registered Central Service Technician (CRCST) Examination.

Program Prerequisites:
High school diploma or GED
Must score at the college level or better on the reading and writing placement exam or course equivalency
Placement exam scores must not be more than two years old
A criminal history records check with no disqualifying convictions is required prior to the start of the program
Sterile Processing Technician Program courses must be taken in sequence and all program requirements must be completed with a grade of "C" or higher
Students must complete all health and clinical requirements (includes American Heart Association Basic Life Support for Healthcare Providers certification, drug screening, and any additional information required by clinical site) prior to registration for SPT 140 and the requirements must be maintained through SPT 150
Complete the MANDATORY application for Triton College.
In addition to fulfilling the selective admission health program requirements, candidates must complete the following general admission requirements: complete a Triton College application, submit applicable transcripts, take placement exams or demonstrate course equivalency, and complete new student orientation.
Complete the MANDATORY Selective Admission Application for Health Careers
Note: (Applicants should not apply to the Sterile Processing Technician Program until they have successfully completed the prerequisites for the program)
Acceptance is awarded every fall.
Attendance at an information session is ENCOURAGED in order to apply for admission to this program.
By attending an information session, you will learn about the career, the program at the college and the career pathways in the field.
For information on information session dates, times and locations, please register through our form below.
Sterile Processing Technician Information Session Registration
Certificates
Courses
Additional Information
---
Contact Information
Kendra Phipps, MPA, BS, CST
Instructional Area Coordinator
Office: H-228
kendraphipps@triton.edu
Tiffany Irby
Health Careers Retention Specialist
Office: H-133
708-456-0300, Ext. 3982
tiffanyirby@triton.edu
Christopha Cox
Health Careers Information Specialist
Office: H-134
708-456-0300, Ext. 3474
christophacox@triton.edu
Advising Department
Academic Advisors