Diagnostic Medical Sonography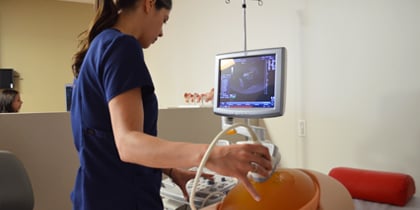 The diagnostic medical sonographer provides patient services, using diagnostic ultrasound under the supervision of a physician responsible for the use and interpretation of ultrasound procedures. The sonographer assists in gathering sonographic data necessary to reach diagnostic decisions.
Diagnostic Medical Sonography (ultrasound) is one of the most recent and fastest-growing medical specialties today. Graduates are employed in medical centers and hospitals. The program provides students with theory and clinical instruction in Diagnostic Medical Sonography, including abdominal and OB/GYN and small parts.
This program is accredited by the Commission on Accreditation of Allied Health Education Programs, 9355 - 113th St. N, #7709, Seminole, FL 33775, (727) 210-2350 Fax: (727) 210-2354, in cooperation with the Joint Review Committee on Education in Diagnostic Medical Sonography, 6021 University Boulevard, Suite 500 Ellicott City, MD 21043, (443) 973-3251 Fax: (866) 738-3444.
Complete the MANDATORY application for Triton College.
In addition to fulfilling the selective admission health program requirements, candidates must complete the following general admission requirements: complete a Triton College application, submit applicable transcripts, take placement exams or demonstrate course equivalency, and complete new student orientation.
Complete the MANDATORY Selective Admission Application for Health Careers.
Note: Applicants should not apply to the Diagnostic Medical Sonography Program until they have successfully completed the prerequisites for the program.
Attendance at an information session is ENCOURAGED in order to apply for admission to this program. By attending an information session, you will learn what is expected of you as an applicant, as well as the functionality of the program. For a list of current information session dates, times and locations, please register through our form below.
Diagnostic Medical Sonography Certificate Information Session Registration
Diagnostic Medical Sonography Degree Information Session Registration
UPDATE: If no Information Sessions are available, Please click HERE.
Degrees
Certificates
Courses
Additional Information
---
Contact Information
Krysti Reece
Diagnostic Medical Sonography Coordinator
Office: H-102
krystireece@triton.edu
Tiffany Irby
Health Careers Information Specialist
Office: Room H-133
708-456-0300, Ext. 3982
tiffanyirby@triton.edu
Advising Department
Academic Advisors***