Diagnostic Medical Sonography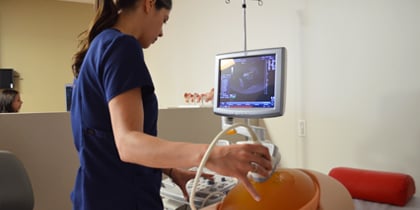 The diagnostic medical sonographer provides patient services, using diagnostic ultrasound under the supervision of a physician responsible for the use and interpretation of ultrasound procedures. The sonographer assists in gathering sonographic data necessary to reach diagnostic decisions.
Diagnostic Medical Sonography (ultrasound) is one of the most recent and fastest-growing medical specialties. Graduates are employed in medical centers and hospitals. The goal of this program is to prepare competent entry-level general sonographers in the cognitive (knowledge), psychomotor (skills), and affective (behavior) learning domains.
The General DMS Program sponsored by Triton College is accredited by the Commission on Accreditation of Allied Health Education Programs (www.caahep.org) upon the recommendation of the Joint Review Committee on Education in Diagnostic Medical Sonography.

Commission on Accreditation of Allied Health Education Programs (CAAHEP)
9355-113th St. N, # 7709
Seminole, FL 33775
727-210-2350
www.caahep.org

Joint Review Committee on Education in Diagnostic Medical Sonography (JRC-DMS)
6021 University Blvd #500
Ellicott City, MD 21043
443-973-3251
www.jrcdms.org
Complete the MANDATORY application for Triton College.
In addition to fulfilling the selective admission health program requirements, candidates must complete the following general admission requirements: complete a Triton College application, submit applicable transcripts, take placement exams or demonstrate course equivalency, and complete new student orientation.

Complete the MANDATORY Selective Admission Application for Health Careers.
Now accepting applications for Fall 2024.
Note: Applicants should not apply to the Diagnostic Medical Sonography Program until they have successfully completed the prerequisites for the program. Completion of prerequisites and application submission does not guarantee admission into the program.
Attendance at an information session is REQUIRED in order to apply for admission to this program. By attending an information session, you will learn what is expected of you as an applicant, as well as the functionality of the program. For a list of current information session dates, times and locations, please register through our form below.
Diagnostic Medical Sonography Certificate Information Session Registration
Diagnostic Medical Sonography Degree Information Session Registration
Disclosure:
Full disclosure of any ticket, citation, summons, arrest, charges or convictions for a misdemeanor or felony is required in writing to the Program Chairperson prior to applying to the Diagnostic Medical Sonography program. Applicants must contact the Program Chairperson for preapproval information well in advance of the program application deadline. Written approval may take up to 12 weeks to complete. Individuals who have been charged or convicted of a misdemeanor or felony must pre-apply to the ARDMS by filling out a Compliance Pre-determination Application. Once the written preapproval to take the examination is received in writing from the Program Chairperson, students may apply to the program. If any disclosure is not received and it appears on a background check or is discovered later, your application will be disqualified and/or clinical site revoked immediately. Completing a Compliance Pre-determination Application does not guarantee admission or employment.
Degrees
Certificates
Courses
Additional Information
---
Contact Information
Heather Amwoza, BS, RDMS, RVT
Diagnostic Medical Sonography, Chairperson
Office: H-102
heatheramwoza@triton.edu

Jeffrey Pasieka, RDMS, RVT
Diagnostic Medical Sonography, Clinical Coordinator
Office: H-137
jeffreypasieka@triton.edu
Tiffany Irby
Health Careers Retention Specialist
Office: Room H-133
708-456-0300, Ext. 3982
tiffanyirby@triton.edu
Christopha Cox
Health Careers Information Specialist
Office: Room H-134
708-456-0300, Ext. 3474
christophacox@triton.edu
Advising Department
Academic Advisors***