Emergency Medical Technology
Emergency Medical Technology Program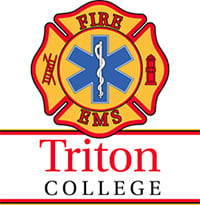 The Emergency Medical Technology Program is designed for individuals pursuing a career in emergency medical services (EMS). It is also designed for individuals interested in expanding their professional and academic abilities, within the EMS occupations. Areas of employments for students that exist after becoming licensed include fire services, third party ambulance services, hospital emergency rooms and various other medical type services providers.
Program Mission Statement:
We commit to providing quality Pre-hospital emergency medical education and training for the community. Our program will strive for excellence, professionalism and dedication in all educational endeavors. As dedicated staff, we will continually find ways to enhance the educational services to the community that we serve.
Our program will maintain alignment with the Triton College Mission Statement and Core Values.
Certificate
Courses
EMT Job Opportunities
There are additional companies with EMT job opportunities beside what is listed here.
Additional Information
---
Contact Information
Program Chairperson
Vince Pesavento
Office: F-204
708-456-0300, Ext. 3049
vincentpesavento@triton.edu
Adjunct Faculty/Lead Instructors
Adjunct Faculty/Practical Instructors