Nursing - RN & LPR to RN
NOTICE: NEW NURSING CURRICULUM EFFECTIVE FOR FALL 2018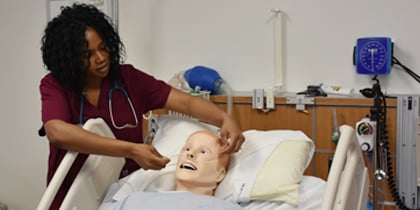 Triton's Nursing Program provides students with a basic knowledge of nursing theory and practice, humanities, and social and biological sciences. Clinical experiences are provided in a variety of settings. Graduates earn an Associate in Applied Science degree and qualify to sit for the National Council Licensing Examination (NCLEX) for the registered nurse. Candidates for the RN-NCLEX are required by law to meet fingerprinting requirements, submit to a criminal background check and report conviction of any criminal offenses as part of the licensure application process. The program is approved by the Illinois Department of Financial and Professional Regulation, 100 West Randolph, Suite 9-300, Chicago, Ill. 60601, (312-814-4500). The Associate in Applied Science degree is accredited by the Accreditation Commission for Education in Nursing (ACEN), 3343 Peachtree Road NE, Suite 850, Atlanta, GA, 30326 (404-975-5000).
In addition to fulfilling the selective admission health program requirements, candidates must complete the following general admission requirements: complete a Triton College application, submit applicable transcripts, take placement exams or demonstrate course equivalency, and complete new student orientation.
Complete the MANDATORY Selective Admission Application for Nursing or LPN to RN Careers
Attendance at an information session is ENCOURAGED in order to apply for admission to this program. By attending an information session, you will learn what is expected of you as an applicant as well as the functionality of the program.
See link below for Information Session dates (online pre-registration is no longer necessary)
Degrees
Courses
---
Additional Links
---
Contact Information
Maggie Enich, RN, MS
Associate Degree Nursing Chair
Office: H-203
(708) 456-0300, Ext. 3900
magdelinenich@triton.edu