Allied Health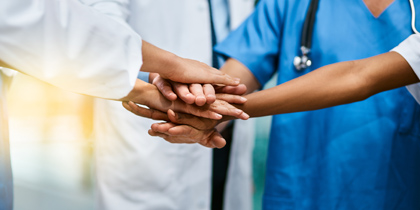 The Allied Health department's main responsibility is providing prerequisite and co-requisite courses to prepare students for success in many Health Career degree and certificate programs at Triton College. We are dedicated to educational excellence. To that end, every effort has been made to design and offer a diverse range of courses designed to meet student needs and facilitate student success.
Mission Statement
To provide Allied Health students with the knowledge, skills, and behaviors to achieve their academic, professional and personal goals as competent health care practitioners - and become active, effective citizens in their respective communities.
Vision Statement
The Allied Health department is committed to supporting students and the community by providing exemplary student-centered learning opportunities in health care disciplines which enrich, encourage growth, lead to success and promote lifelong learning. The department will continue to foster student attributes that will enhance their roles as effective health care professionals.
Courses
Note: All AHL courses must be completed with a grade of "C" or higher; AHL program requirements must not be taken more than five years prior to the start of the program.
---
Contact Information

Dr. Peter Jaswilko
Allied Health, Chairperson
(708) 456-0300, Ext. 3928
Office: H-232
peterjaswilko@triton.edu
Dr. John Cody
johncody@triton.edu
Fr. Dr. Joseph F. Ekpo
josephekpo@triton.edu
Mary Elkins
maryelkins@triton.edu
Stella M. Fernandez
stellafernandez@triton.edu
Enisa Mehmeti
enisamehmeti@triton.edu
Dr. Teri Junge
terijunge@triton.edu
Ewa Stopa
ewastopa@triton.edu
Ruth A. Zavala
ruthzavala@triton.edu