Allied Health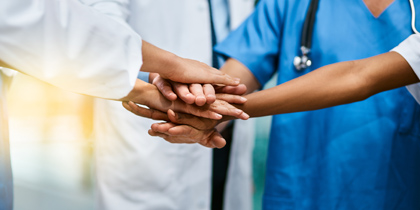 The Allied Health department's main responsibility is providing prerequisite and co-requisite courses to prepare students for success in many Health Career degree and certificate programs at Triton College. We are dedicated to educational excellence. To that end, every effort has been made to design and offer a diverse range of courses designed to meet student needs and facilitate student success.
Mission Statement
To provide Allied Health students with the knowledge, skills, and behaviors to achieve their academic, professional and personal goals as competent health care practitioners - and become active, effective citizens in their respective communities.
Vision Statement
The Allied Health department is committed to supporting students and the community by providing exemplary student-centered learning opportunities in health care disciplines which enrich, encourage growth, lead to success and promote lifelong learning. The department will continue to foster student attributes that will enhance their roles as effective health care professionals.
Selective Enrollment

All Triton College Health Careers Programs are selective enrollment, meaning; applicants must qualify for the program before acceptance can be awarded. The programs award acceptance by a point system; the higher the points awarded, the stronger an applicant's chances are for acceptance.
All math and science classes expire five years from the time they were taken. Applicants have the option to test out of math courses by taking the Triton College algebra placement exam administered by the testing center.
Information sessions are no longer mandatory, but strongly encouraged. Attending an information session provides a prospective applicant with a foundation of what is required for their desired health career program of choice.
There are deadlines for applying to the Health Careers Programs. Applicants should apply to their program of choice after the prerequisites are complete. If not accepted, you must reapply at the final deadline of June 1st to be considered for the next admission year.
The deadlines dates for fall admission to the Allied Health Programs are:
September 15
January 15
March 15 (Only if seats remain available in specific program of interest for fall admission)
June 1 (Only if seats remain available in specific program of interest for fall admission)
The deadlines dates for spring 2018 and fall 2018 admission to the Nursing Program are:
September 15
January 15
March 15 (Only if seats remain available)
June 1 (Only if seats remain available)
Courses
---
Contact Information

Dr. Peter Jaswilko
Allied Health Coordinator
(708) 456-0300, Ext. 3928
Office: H-232
peterjaswilko@triton.edu
Silvia Donatelli
silviadonatelli@triton.edu
Mary Elkins
maryelkins@triton.edu
Tracey Johnson
traceyjohnson@triton.edu
Angela Satala
angelasatala@triton.edu
Ewa Stopa
ewastopa@triton.edu
Ruth A. Zavala
ruthzavala@triton.edu