Respiratory Care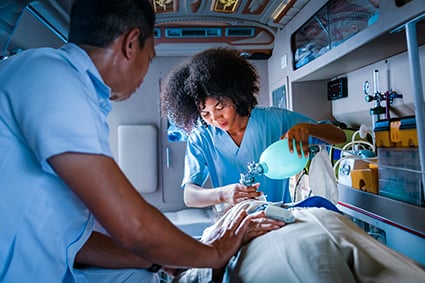 Respiratory Care program provides students with academic and clinical training in preparation for employment as a respiratory care practitioner. Students have the opportunity to develop professional skills in advanced respiratory care techniques (including neonatal, pediatric and adult special care procedures), general and advanced pharmacology, cardiopulmonary disease, patient assessment and therapeutics.
Respiratory care practitioners may be found in acute-care hospital settings, including the emergency room, the intensive care unit, the newborn or pediatric intensive care unit, or the pulmonary diagnostics laboratory. In addition to general procedures, respiratory care practitioners also monitor and maintain complex life-support systems such as mechanical ventilators. They work with patients of all ages, from premature infants with underdeveloped lungs, to senior citizens with advanced chronic obstructive pulmonary disease. Outside of the hospital setting, respiratory care practitioners may work in pulmonary rehabilitation clinics, performing pulmonary rehabilitation.
Upon completion of the program, a graduate is considered eligible and qualified to take the certification and registry examinations, and the specialty examinations for pediatrics/neonatology, adult critical care specialist and pulmonary function technology offered by the National Board for Respiratory Care. Additionally, graduates are eligible for a license to practice in states with licensure and/or registration laws.
Accreditation:
Triton College is pursuing accreditation for the Respiratory Care program through the Commission on Accreditation for Respiratory Care (CoARC)
Program Learning Outcomes:
After successful completion of the respiratory care program, the graduate will be able to:
Demonstrate understanding of the following aspects of communication skills and interpersonal relationships: verbal, nonverbal, listening, conflict, gender, and diversity.
Demonstrate the ability to acquire and evaluate clinical data and modify therapy to achieve therapeutic objectives.
Demonstrate the ability to assess the cardiopulmonary status of patients and implement respiratory care plans.
Determine the correct management and maintenance of the artificial and anatomical airway as well as the lung mechanics pertinent to the mechanically ventilated patient.
Demonstrate proficient clinical skills by performing prescribed adult, pediatric and neonatal respiratory care procedures.
Demonstrate the skills necessary to set-up, manage, and troubleshoot advanced modes of ventilation.
Interpret diagnostics such as arterial blood gasses, capnography, hemodynamic values, hematology and electrolytes as they apply to the assessment of the care of the critically ill patient.
---
Applications
Complete the MANDATORY application for Triton College.
In addition to fulfilling the selective admission health program requirements, candidates must complete the following general admission requirements: complete a Triton College application, submit applicable transcripts, take placement exams or demonstrate course equivalency, and complete new student orientation.
Complete the MANDATORY Selective Admission Application for Health Careers.
Attendance at an information session is ENCOURAGED in order to apply for admission to this program. By attending an information session, you will learn what is expected of you as an applicant as well as the functionality of the program. Please register through our form below.
RESPIRATORY CARE DEGREE INFORMATION SESSION REGISTRATION
---
Department Information & Links
Degrees
Courses
Main Links
---
Contact Information
Elizabeth Molina BHA, RRT, RRT-ACCS, RRT-NPS
Chair, Respiratory Care
Office: H-233
(708) 456-0300, Ext. 3930
elizabethmolina@triton.edu
Christopha Cox
Health Careers Information Specialist
Office: H-134
708-456-0300, Ext. 3474
christophacox@triton.edu
Advising Department
Academic Advisors