Vascular Technology in Sonography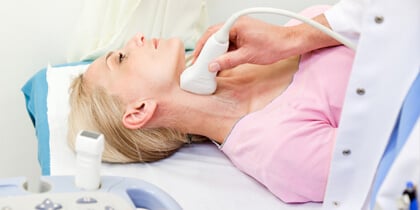 The Diagnostic Medical Sonographer performs diagnostic ultrasound procedures under the supervision of a physician. The sonographer collects essential patient data to aid in diagnosis. The Vascular Technology in Sonography certificate provides an avenue for those already in the diagnostic medical sonography setting to cross train into another specialty. This is done through didactic instruction, laboratory hands on training and practice needed for employment training in vascular technology in Diagnostic Medical Sonography. This advanced certificate will enhance and extend the current skill set of the Registered Diagnostic Medical Sonographers throughout the community. This will make the individual more marketable in many health care agencies that call for multi-competent practitioners. Employment opportunities are excellent in hospitals, medical centers and other health care agencies.
Complete the MANDATORY application for Triton College.
In addition to fulfilling the selective admission health program requirements, candidates must complete the following general admission requirements: complete a Triton College application, submit applicable transcripts, take placement exams or demonstrate course equivalency, and complete new student orientation.
Complete the MANDATORY Selective Admission Application for Health Careers.
Note: Applicants should not apply to the Diagnostic Medical Sonography Program until they have successfully completed the prerequisites for the program.
Vascular Technology in Sonography Application
Attendance at an information session is ENCOURAGED in order to apply for admission to this program. By attending an information session, you will learn what is expected of you as an applicant, as well as the functionality of the program.
Vascular Technology Certificate Information Session
Please contact Heather Amwoza at heatheramwoza@triton.edu to schedule an individual Vascular Technology in Sonography Certificate program information session.
Disclosure:
Full disclosure of any ticket, citation, summons, arrest, charges or convictions for a misdemeanor or felony is required in writing to the Program Coordinator prior to applying to the Vascular Technology in Sonography program. Applicants must contact the Program Coordinator for preapproval information well in advance of the program application deadline. Written approval may take up to 12 weeks to complete. Individuals who have been charged or convicted of a misdemeanor or felony must pre-apply to the ARDMS by filling out a Compliance Pre-determination Application. Once the written preapproval to take the examination is received in writing from the Program Coordinator, students may apply to the program. If any disclosure is not received and it appears on a background check or is discovered later, your application will be disqualified and/or clinical site revoked immediately. Completing a Compliance Pre-determination Application does not guarantee admission or employment.
Certificates
Courses
Additional Information
---
Contact Information
Heather Amwoza, BS, RDMS, RVT
Office: H-102
708-456-0300, Ext. 3780
heatheramwoza@triton.edu
Tiffany Irby
Health Careers Retention Specialist
Office: H-133
708-456-0300, Ext. 3982
tiffanyirby@triton.edu
Christopha Cox
Health Careers Information Specialist
Office: H-134
708-456-0300, Ext. 3474
christophacox@triton.edu
Advising Department
Academic Advisors