Ophthalmic Technician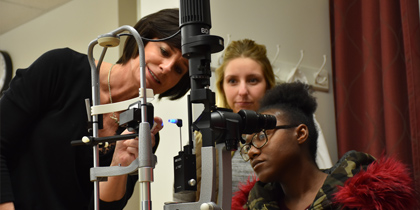 Ophthalmic Technology is a rapidly expanding field with a growing demand for qualified technicians.
The ophthalmic technician, under the direct supervision of an ophthalmologist, assists in direct and indirect patient care. This includes case histories, visual acuity measurement, visual field testing, refractometry, contact lenses, instrument maintenance and assisting the doctor with minor ophthalmic surgery.
This program is accredited by the International Council for Accreditation (ICA), 25400 US Highway 19 North, Suite 158, Clearwater, FL 33763, in cooperation with the Commission on Accreditation of Ophthalmic Medical Programs, 2025 Woodlane Dr., St. Paul, MN 55125, (651) 731-7242. Employment opportunities in the field are excellent due to an increase in the number of support personnel employed by ophthalmologists and a rising demand of eye-care services.
Disclosure and Technical Standards
Triton College Ophthalmic Technician Technical Standards

Progression and Retention
A grade-point average of 2.0 is required for progression in all programs.
A "C" grade or higher within the last five years is required for progression in all required Science and major Health Career courses to count towards graduation requirements.
All clinical components or clinical courses must be completed with a minimum grade of "P," "C" or "S," dependent on the grading system used for the program.
Students returning to the clinical following a major illness or maternity leave must provide written documentation from their physician stating that they may be involved in all clinical activities with no physical restrictions.
Requirements stated in the catalog at the time of admission or readmission to a Health Career program must be met for graduation.
Complete the MANDATORY application for Triton College.
In addition to fulfilling the selective admission health program requirements, candidates must complete the following general admission requirements: complete a Triton College application, submit applicable transcripts, take placement exams or demonstrate course equivalency, and complete new student orientation.
Complete the MANDATORY Selective Admission Application for Health Careers.
Note: Applicants should not apply to the Ophthalmic Technology Program until they have completed the prerequisite requirements and have taken some of the classes that are a part of the program's curriculum. Acceptance is awarded every fall semester
Attendance at an information session is REQUIRED in order to apply for admission to this program. By attending an information session, you will learn what is expected of you as an applicant as well as the functionality of the program. Please register through our form below.
Ophthalmic Technician Degree Information Session Registration
Degrees
Courses
---
Additional Information
---
Contact Information


Lisa Maas, COT
Ophthalmic Technician, Chairperson
Office: H-143
(708) 456-0300, Ext. 3934
lisamaas@triton.edu
Tiffany Irby
Health Careers Retention Specialist
Office: H-133
708-456-0300, Ext. 3982
tiffanyirby@triton.edu
Christopha Cox
Health Careers Information Specialist
Office: H-134
708-456-0300, Ext. 3474
christophacox@triton.edu
Advising Department
Academic Advisors