Chef Bill Kim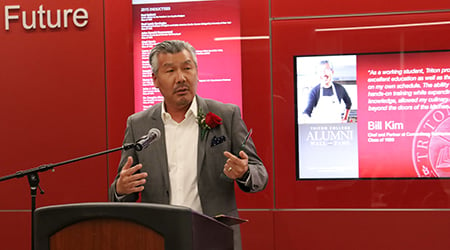 Bill Kim, an Award-Winning Chicago Chef, has "Full Circle" Moment at Triton College
Honored alumnus Bill Kim, an award-winning Chicago chef, restaurateur, and cookbook author, said being inducted into the Wall of Fame was a "full circle" moment for him.
Kim immigrated to the United States from Seoul, South Korea, at the age of 7. He realized he liked to cook when he first arrived as an immigrant, making his family bologna sandwiches and English muffin pizzas.
"I enjoyed cooking for myself and for others," he said. "Triton gave me the foundation to build a career out of my passion."
Kim decided to attend Triton after attending a college fair his junior year of high school, realizing Triton had a Hospitality Program. He felt attending a community college was an ideal situation for him since he could stay at home while receiving his degree.
"This is very magical for me," he explained. "I used to take the Route 331 Bus to Triton every day and now I'm receiving this great honor. Thanks to Triton, I am now a chef."